Do You Need A Pro?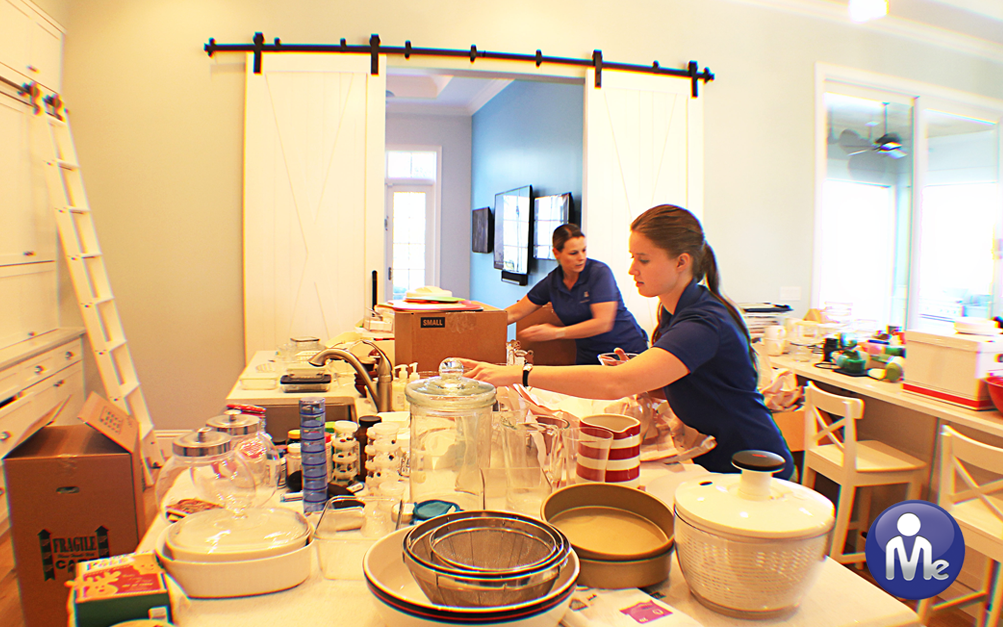 Here are a few examples of why people call on us for help:
– I want to get organized, but it's so overwhelming. I don't know where to start! – I need help defining a vision for each space in my home. – There are rooms in my house that I dread going into. – It's hard for me to decide what to keep and what to throw out or give away. – I am embarrassed to have guests see certain areas of my home. – I have piles of stuff that I have no idea what's in them. – I am often late or forget about appointments. – I have trouble being "present." – I am always busy with "urgent" things and little pieces of my life wind up on the kitchen counter, or stuffed in closets and drawers. – I need help getting motivated to tackle my organizing project. – I need to clear the clutter in my life to allow space in my life for new insight, energy, joy and experiences. – I have clothes and shoes everywhere – I need a system that works for me and can change with my needs.
We Can Help!
We understand that organizing can be overwhelming…we are here to help! Our My Home In Order service provides Professional Organizing Services for you and your home.  We look forward to helping you in these specialized areas as well as others:
General Clutter
Paper Management
Digital Organizing
Storage Downsizing and Closing
Me In Order has been a leader in the organizing industry since 2006. Our team of Expert Organizers have accumulated literally thousands of hours helping our neighbors in South Florida realize their goal of getting their home in order. You've come to this site for a reason.  Perhaps your home office is a disaster area, and you've misplaced bills or other important papers. Maybe your kids' rooms are so full of toys that you can no longer walk. Maybe the last time you parked your car in the garage was in 1987. Perhaps you've given up hope of ever finding anything in your chaotic Florida room. And just thinking about tackling these jobs by yourself gives you major stress and concern. Well you've come to the right place! If you've never experienced the thrill of seeing your clutter disappear within hours, be prepared! We guarantee you will be shocked and amazed at the speed and skill in which your home is transformed. We are trained and experienced hands-on organizers. Our highly talented team of  experts are ready, willing and able to tackle any size job, from routine to extreme. In fact, the tougher the clutter challenge, the more excited we get when we see it disappear (just imagine how you will feel!)" Have a special circumstance? Our diversified team is ready to help you with all aspects of organizing. Call us today at 866-971-1113. We'd love to learn how we can help you create order and bring peace to your home.
New To Organizing? Here's What To Expect.
Our organizational experts are all members of the
National Association of Professional Organizers
. Each of them is prepared to skillfully arrange your disheveled spaces into easily navigable havens. Calling upon thousands of hours of accumulated experience, our determined team restores order to unlivable living rooms while reclaiming playrooms overwhelmed by piles of toys and imaginary pet raccoons. Our licensed and insured professional organizers also unleash their expertise on garages so cars have shelter during inclement weather, as well as re-organizing home offices to reveal misplaced staplers and important papers. A world apart from cleaning services, our organizational samurai wield label makers, containers, and a keen eye for order,
putting systems in place
that help you gain and maintain permanent control over your space. Left unchecked, possessions tend to congregate in menacing clusters; sometimes you need a trained professional to help sort it out. Where a jumbled pile of knickknacks gives the average person stress, our organizational experts become overjoyed by the site of disorder: their nearly superhuman ability to sort, assign, and contain quickly turns disarray into neat, futuristic order. Once everything is in order, your newly arranged treasures will be a part of an
easy-to-follow system
with everything in its logical place. Even your kids will be able to find things, encouraging independence and helping them get a handle on messy tendencies. You can breathe a sigh of relief once your clutter has been whipped into shape, and turn your attention to bigger projects, such as taking a long walk on the beach 
Have you ever hired a Professional Organizer before?
Keep in mind that hiring a Professional Organizer is not like hiring a plumber or electrician.  Our goal is NOT to get rid of the clutter and then charge you for the "job".  Our goal IS to get you out of the clutter and into a lifestyle of clutter free living.  We want to give you a fresh start not only in what you can see with the eye, but also with how you see your belongings in your heart.  With that in mind you are hiring us as a professional service that is dedicated to your best interest.  Our service is better compared to a Personal Trainer, Coach, or hands-on Instructor.  Naturally these types of services are not "job" related, and therefore require services to be provided by the hour.  We care about how our clients live and how they feel about their home.  We make it our personal responsibility to provide our clients with spaces that make them feel relaxed, and at home, with as little maintenance as possible.  We believe that value in life comes from our relationships rather than our "stuff" and therefore want to help you create spaces in your home that are simply beautiful, efficient, and require the least amount of maintenance so that you have more time for family and friends.
My Move In Order
We'll Get You Settled In
Team Organizing at Discounted Rates

De-clutter & Donate (Pre-move)

Settle-in Service (Post move)
My Home In Order
Hands-on Expert Organizing
Team Organizing at Discounted Rates

Change In Household

Lifestyle Change

Remodeling

Storage Downsizing or Closing
Keeping Order Memberships
* For Current Clients Only
Monthly Sessions to Keep You Organized! +4 Hours of Hands-on Expert Organizing +See Details For All The Perks…
What additional services do you offer and how much are they?
Expert Organizer Teammate          $60.00 / Hour / Each Teammate
Shopping Services                             $30.00 / Half Hour
Donation Delivery                             $30.00 / Half Hour
What if I need to cancel my appointment?
Our Expert Organizers are in high demand and we often schedule their appointments a week or more in advance. Because of the irreplaceable time that is lost if there is a cancellation without adequate notice, we request that you provide at least 48 hours notice. In the event that you require a rescheduled appointment, require a cancellation or if you are not present when we arrive, there is a rescheduling/cancellation fee of $100 for an individual expert organizer and $50 for each additional team member. Your prompt payment ensures that our team is minimally compensated for their lost time.
How It Works
We want you to feel right at home with our services. In that effort we have created this graphic to show you how our services work. Not everyone goes through all 4 steps of our service, but it's important that you know that we will be with you for as long as you would like organizing help.
Your 1st step is to schedule your FREE telephone consultation.
Call 866-971-1113
-or-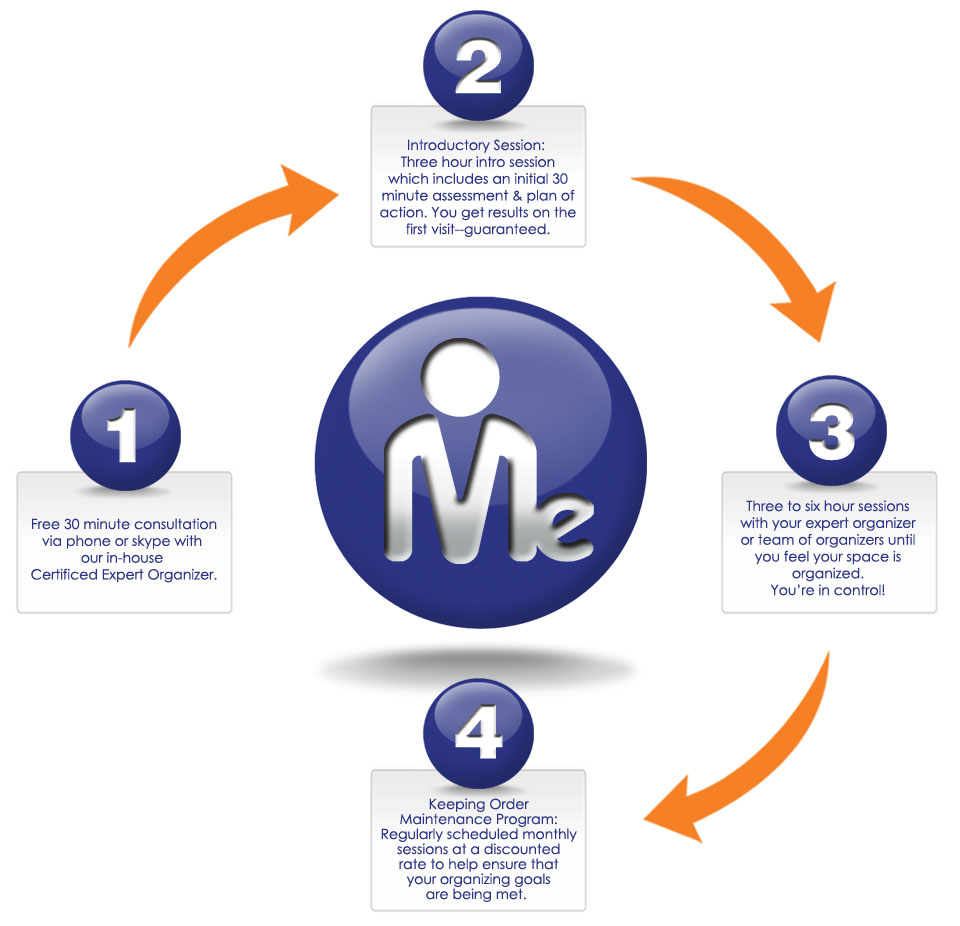 Number of Americans that are overwhelmed by their clutter.
Number of Americans that feel that their clutter is too complicated to deal with.
You'll love our service…or it's free!
We believe that you will love our Professional Organizing Services so much that we guarantee it.  If within the first 3 hours of the first session you are not completely satisfied with our service, simply let us know and the session is free — It's okay, we'll still be friends.
82% of Americans believe that if they are more organized, their quality of life would improve.
We look forward to helping you achieve your organizing goals! Scheduling 30 minutes with us is an important first step to getting your organizing project underway.
Click the "Schedule It Now" button and give us your contact information. You'll hear back from me or one of our other awesome experts.
Congratulations! You're already on your way to a better…more organized you!
Cheers,
Kelly