We are your Expert Organizing team.
We create order and bring peace to your home.
Why? Because we believe that order brings peace.
Most of us are overwhelmed with all aspects of our lives, from our responsibilities, to our relationships to the stuff that occupies our living spaces. We understand that the more we have the more we have to manage. We also understand that true value in our lives comes from our relationships. We organize because we are passionate about our clients efforts in maintaining living spaces that help support their relationships rather than their living spaces being a hindrance to what brings value to their lives.  We do this by helping our clients create functional living spaces that support their lifestyle and goals for their future self. We do what we do because we know that by creating order in your spaces brings peace to your soul.
We are a hands-on organizing firm.
We help our clients make decisions on the clutter in their spaces. We help them decide what to keep, donate, toss and sell and then we create homes for their kept items. Once homes are designated, we create systems of organization that are specifically designed for the client so that the systems that we setup are simple and easy for the client to maintain.
We specialize in helping clients that have recently relocated by unpacking their boxes and setting up their new spaces giving them an environment of order and peace from the very beginning of their time in their new home. We believe that on your first day in your new home you should be able to sleep in your own bed, wake up and make a pot of coffee and get ready for the day just like you always lived there. Me In Order makes that happen!
Our clients are you and me.
Like you and me our clients are those that struggle with the amount of stuff that comes into our homes and the little time we have available to deal with it. Our clients are individuals that realize they can be a better person with more order in their lives.
Our clients are those that are going through the relocation process. Our clients don't have the time or the desire to unpack and get settled into their homes because of work or other familial obligations.
Our clients have a busy lifestyle who are trying to balance between work and family.
We are a team.
We are first and foremost a team.  We learn together, we work together, and sometimes we play together.  We are a group of dedicated expert organizers that believe that together we can do more™ for our community, for our team, or families and for ourselves.  We are a tribe that believes that we are contributing to something greater than ourselves. We know that our work is meaningful and that our impact is huge.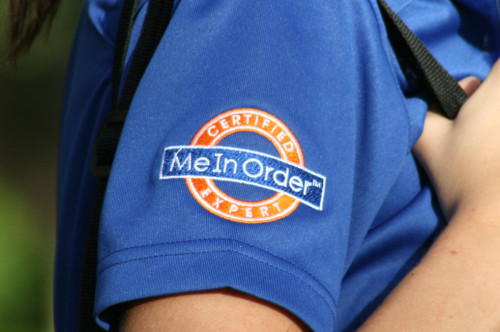 We are experts in our field. 
Founding organizer Kelly Barber, CPO is a Certified Professional Organizer®.  She personally selects each Me In Order Expert Organizer™ candidate.  Once a candidate has accepted the offer to join our team they begin our 6 to 9 week training program. Once a candidate has passed our certification process we provide them with the honored distinction of Certified Expert Organizer™.  All of our Certified Expert Organizers™ have been certified within the first six months of joining our team.
Me In Order™ is one of the few licensed and insured organizing firms in South Floirda and are currently the only organizing firm in South Florida that carries workers compensation insurance for our organizing team.
We are committed to quality through every interaction with our clients. We ensure our quality through unequaled training, systems and processes that are designed and tested to ensure that our team is performing above or beyond the expectations set forth in our training program.