The Me In Order Guarantee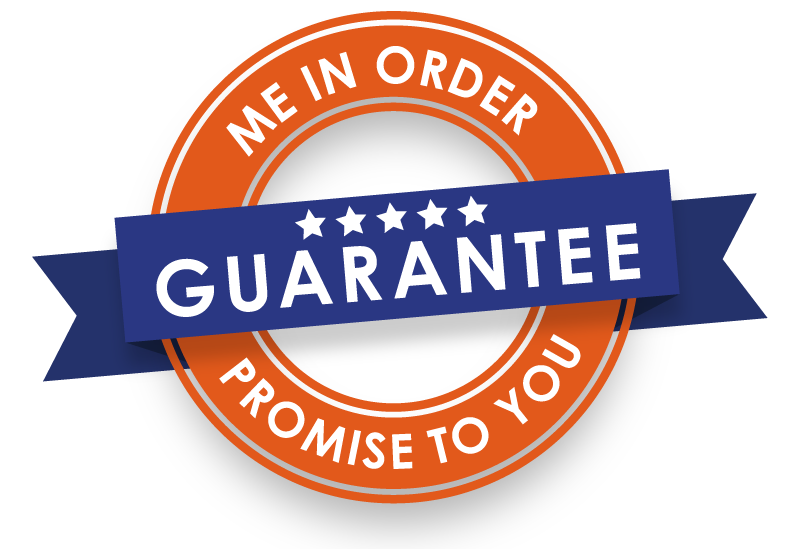 We are so confident that you'll love your Expert Organier that their service is backed by the Me In Order Promise.
We always want you to have a great experience with Me In Order and the Expert Organizers that you choose to work with from our platform. This is why we have the Me In Order Promise.
If you work with a Me In Order Expert Organizer to get organized, we promise that you will not be disappointed. We back this promise with three measurable results that you can expect from each and every one of our qualified and experienced Expert Organizers.
The Me In Order Promise To You
You'll get results, or it's FREE
We are so confident that you'll love your Expert Organizer – we guarantee their service.  If within the first three hours of the first session you are not completely satisfied with your organizer, simply let us know* and we'll pay them on your behalf.
*Please call 866-971-1113 and speak with a teammate within 72 hours of your session start time in order to request a guarantee payment be made to your organizer on your behalf.
Your information is always confidential.
Your information will always be kept strictly confidential.  All of our team members are bound by the Me In Order code of ethics and have all signed a strict confidentiality agreement which protects your confidentiality. Our code of ethics states the following regarding your confidentiality:
We will keep confidential all client information, including information which may be revealed by other teammates.
We will use proprietary client information only with the client's permission.
We will protect our clients information while working with them, taking special care with addresses, social security numbers, financial information, account numbers and the like.
No Judgment – Period.
As experts we understand the nature of organization and regularly witness the embarrassment that some of our clients face as we enter their homes. Rest assured that we are there to help…not criticize or judge. We come to you with the heart of a teacher and in that spirit will never belittle or trivialize your home or situation. We strictly follow the Me In Order code of ethics and promise to to treat you with courtesy and respect, and to serve you with integrity, competence and objectivity.
Need Help?
Call or text us at 866-971-1113
We are here to help Monday – Friday 9am to 6pm. Eastern Standard Time