Answers to your common questions about Me In Order.
How long have you been in business?
Me In Order was incorporated and has been a leader the organizing industry since 2006. Our team of Expert Organizers helps you with your organizing project every step of the way. With Me In Order, you have an entire team of experts who work together to ensure that your organizing goals are achieved. Since 2006 our team has had the pleasure of organizing over 1000 very happy clients!
Are you licensed and insured?
Rest assured that Me In Order carries all the proper licenses and insurance for your protection as well as ours.
What are your office hours?
Our office hours are:
Monday – Friday: 9am to 6pm
Saturday: 9am to 3pm
Sunday: Closed
When we are away from helping you create order we work on creating extraordinary lives with our families, friends and colleagues. It's what gives us the fuel to create order and bring peace day after day.
Are you a franchise?
No. We are family owned and operated. We are a team of individuals that bring our gifts and talents together to provide the very best organizing services to all the areas that we serve.
How long are the appointments?
Organizing appointments (we call them sessions) are a minimum of 3 hours and a typical maximum of 6 hours.
What methods of payment do you accept?
What do I need to buy before the session?
Nothing! Our team wants to make the most out of each session which means making the best use of all the great organizing tools that you already have. The majority of our clients are amazed at what we can do with what they already have in their home. Of course, if a specialized container or other organizing tool would be helpful, then we'll make that suggestion and either add it to your shopping list or pick it up for you between visits. Your choice!
Do you have night and weekend appointments available?
We try to keep our organizing hours the same as our office hours so that our field team has support from our office team. However, appointments may be available outside of our office hours; just ask your Project Coordinator or Expert Organizer.
Our office hours and regular organizing hours are:
Monday – Friday: 9am to 6pm
Saturday: 9am to 3pm
Sunday: Closed
Do you offer project pricing?
Your in charge!
Our services are billed by the hour and we do not offer project pricing.  Our decade of experience has taught us that the best way to keep you in control of the amount of time and money that you invest with an Expert Organizer is to leave that in your hands.  This way, if for any reason you are not satisfied you can simply choose not to schedule another session with your Expert.
Do you guarantee your service?
You'll get results, or it's FREE
If at any time during your initial session you are not completely satisfied with our hands-on Professional Organizing service, simply let us know and the session is free – it's okay, we'll still be friends. You can also choose to work with another Expert Organizer when two or more team members are available in your area. You're in control!
Read our entire promise to our clients HERE.
What type of training does your team have?
Working with Me In Order means that you are working with the best in the industry. Every one of our Expert Organizers has been hand selected, tested and approved before they have the opportunity to work with one of our valued clients.  Our Team Captains have all completed and passed the 8 week Order University™ classroom curriculum, and have also completed both field experience and mentoring sessions as they work towards completing the Order University™ training program and received their Certified Expert Organizer™ designation.

Are your Expert Organizers certified?
Yes! Upon the passing and completion of the Order University™ classroom training as well as 90 days of field experience and mentoring, our teammates are awarded the Certified Expert Organizer™ designation.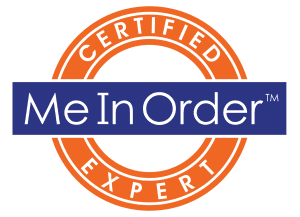 Why do you call your team Expert Organizers instead of Professional Organizers?
The difference between a Professional Organizer and an Expert Organizer is that a Professional is someone who gets paid for a service, while an Expert is someone who has distinguished themselves in their field through education and experience.
Will I be working with the same Expert Organizer?
Yes! We will place you with an Expert Organizer that best fits your circumstance and that Expert will be your Team Captain throughout the organizing project. However, should you decide that you would like to switch Experts, then we can facilitate that as well. While it is rare, it is possible that you as a client don't relate to a particular Expert and would like to work with someone else. We are here to help in any way that we can!
Will my organizing session be kept confidential?
Your information is always confidential.
Your information will always be kept strictly confidential.  All of our team members are bound by the Me In Order code of ethics and have all signed a strict confidentiality agreement which protects your confidentiality. Our code of ethics states the following regarding your confidentiality:
We will keep confidential all client information, including information which may be revealed by other teammates.
We will use proprietary client information only with the client's permission.
We will protect our clients information while working with them, taking special care with addresses, social security numbers, financial information, account numbers and the like.
To learn more about our promise to you click HERE.
Will I be judged by my Expert Organizer?
No Judgment – Period.
As experts we understand the nature of organization and regularly witness the embarrassment that some of our clients face as we enter their homes. Rest assured that we are there to help…not criticize or judge. We come to you with the heart of a teacher and in that spirit will never belittle or trivialize your home or situation. We strictly follow the Me In Order code of ethics and promise to to treat you with courtesy and respect, and to serve you with integrity, competence and objectivity.
To learn more about our promise to you click HERE.
How do I prepare my home for the first session?
Preparing your home for the first session is simple. There is one thing to do and one thing not to do:
To Do: Think about how you would like to use the different spaces in your home once they have been organized. Many of our clients want to use their newly organized spaces for something completely different than its current use. We recommend that you write down what you decide during this exercise and share it with your Expert Organizer when they arrive.
NOT To Do: It is important that your Expert Organizer see the space how it is. Do not try to tidy up the space before they arrive. Doing so will only keep the Expert from seeing elements of the disorganization that will assist them with creating systems of organization that will be simple for you to maintain.
How do I prepare myself for an organizing session?
By preparing yourself for your organizing session you will make the most out of the time you have with your organizer and you will be happier with the results.  Here are some suggestions for preparing yourself:
Get plenty of rest: A good nights sleep will give you a head start to having a productive organizing session.
Get fueled up: Eat a good breakfast and drink plenty of water so that you have the energy to make decisions.
Be on time: Be ready for your Expert Organizer to arrive on time and get right to work.
Reduce distractions: Being able to focus your full attention on the project will provide you with the best results.
Consider your life goals: Sharing your life goals with your Expert Organizer will certainly help them help you make decisions on what to keep, toss, donate and sell.
What is Order University?
Order University is dedicated to educating both the public and the Me In Order Expert Organizing community. It offers educational content to the public through it's YouTube, social media channels and articles published on the Me In Order website. It also offers classroom style education to the Me In Order team of Expert Organizers and handles the administration of their certification process.

Still need help? Give us a call. We'd love to help!
866-971-1113
We are in the office Monday through Friday from 9am to 6pm and on Saturday from 9am to 3pm.