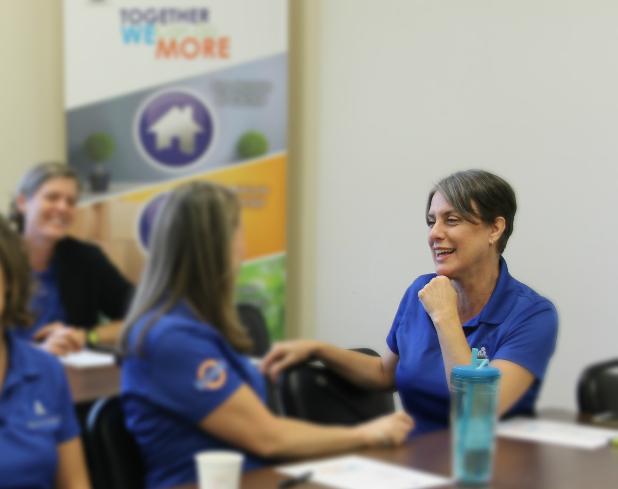 Sara Schmid
Team Position: Expert Organizer
Been with Me In Order since: 2016
Email Sara: sara@meinorder.com
Call Sara: 866-971-1113 (Ask for Sara)
Sara grew up in Caracas, Venezuela but has been in Florida since 2000. She has always had a creative side, while in high school she started exploring different craft workshops. Among them: cake making, knitting, sewing, drawing, Paper Mache as well as English and French. This love for art brought her to Barcelona, Spain to study fashion and photography makeup. Upon graduating Sara worked as a makeup artist for photographers, models, actors, singers, TV Commercials, fashion designers and was an exclusive international makeup artist for Revlon in the Caribbean and Latin America. She met her husband, a professional photographer, while working and they have two sons.
Sara found her passion for order when she was 21 but has always enjoyed reorganizing spaces. She especially loves micro organizing (you should see her make up studio!). The thing she loves most about organizing is being able to help others.
Are you a morning person or a night owl?
Morning person!
What is your favorite outdoor activity & why?
I love Playing tennis because It's fun and I can socialize with friends.
What's the best advise you've ever received?
Don't judge others.
The best part of waking up is…?
Having a delicious cup of coffee, listening the birds singing, and contemplating the awesome lake view outside in the backyard with my lovely dog!
 Name 1 thing you miss about being a kid?
Having plenty of spare time to do whatever I want to do.
Have you any hidden talents?
Dancing and Singing!
What's one thing that not many people know about you
That I work with my husband, we make a great team. He is a professional Photographer, and we love to work together.
Do you have a junk drawer in your house?
I used to, but I just organized it!
If you could organize for a celebrity, who would it be?
Ellen DeGeneres! I love her!
Kindle or Paperback book?
Both!
"This is maybe my fourth time using their services. I have nothing but wonderful comments. Lori, Sara and Cortney were very efficient, professional, and pleasant to work with during a stressful process. I wish I could take them with me to our next destination!"
Michelle
82% of Americans believe that if they are more organized, their quality of life would improve.
I look forward to helping you achieve your organizing goals! Scheduling 30 minutes with me is the all important first step creating order. Follow the steps to the right in order to get on my personal calendar.
Congratulations! You're already on your way to a better…more organized you!
Cheers,
Kelly