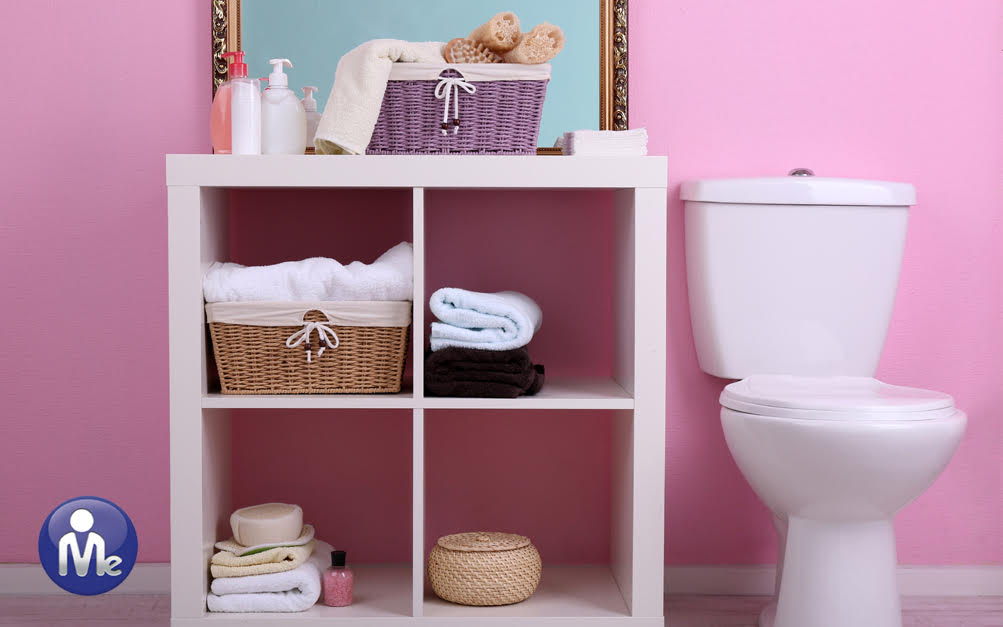 A bathroom is a bathroom; no need to organize it…right? Wrong. The bathroom is the most frequently used room of the house. Some even say you spend as much as 2 ½ years of your life in the bathroom. That's a lot of time spent in an unorganized area.
Here are some good ways to tackle your bathroom and do your business in an organized environment (even if your bathroom is only the size of a shoebox like mine!)

1.   Keep it simple
In any organizing task, it's important to keep only the necessities out in the open.  Soap dispensers and toothbrush holders look great on display; especially when you have color coordination with your bathroom theme. The vast majority of your toiletries should be placed out of site. Purchasing an organizing rack, or even adding additional shelfing to your bathroom closet will help stock away your cleaning supplies, lotions, etc. Plus, it will keep your personal items out of site if and when a visitor uses your bathroom.
2.   Clean out the clutter
Clean out those old medications and that perfume you haven't used in 3 years. Make your medicine cabinet and the space underneath your sink a place for your every-day items. Ask yourself; do you really need that smelly soap from a bridal shower six months ago? Toss it. Also, keep in mind, that underneath your sink is a prime area for moisture. Place your rolls of toilet paper and hand towels in a bin in your hallway closet to keep away from the water.
3.   Filter through Hair and Makeup Products
Do you have every hair product, lip kit, and hair straightener under the sun? That's fine! Just filter everything into one place.  Use counter organizers to highlight your makeup products and brushes. Place your straighteners in a bin under the sink. Decide what hair products truly work and which ones you use on a daily basis and keep them in your medicine cabinet. If you have drawers in your bathroom, try drawer organizers to separate your products and keep like items together.
4.   Towels on Towels
You can have as many towels as your heart desires; the key is to keep them in their proper place. Fold your towels and place them in your closet hallway or you can buy a door rack to hang your towels after use. Keep your hand towels folded and on display or in a cabinet. Using a wicker basket is a great way to show off nice, fluffy towels. I also hung my display towels above my toilet to bring together the color coordination in my bathroom.

5. Make your space clean, organized and your own!
You spend a lot of time in the bathroom; so make it your own spot. Add some classy mason jars for your products, sweet-smelling candles for a relaxing bath, and even some motivational pictures. Find decorations that truly make you feel at ease and bring out your style. Clean out the clutter in your bathroom, give everything its own home, decorate to your liking, and enjoy!
Natalie
Order University Content Creator
Natalie enjoys pugs and Pinot Grigio.