Organizers Direct Review Feed
These reviews are being collected through the individual Expert Organizers being powered by Me In Order™.
5 out of 5 stars (based on 673 reviews)
Always prompt, professional and gets the job done in a timely manner
Above and beyond. Very caring about your things. Makes moving a little more easier.
Ruth was great at communicating with me asking my opinion on what how and where? Loved That! She great to work with… transformed my closet in a matter of hours
Ruth works with the customer on scheduling, makes excellent suggestions, plans the organization of items in the customer's home. I appreciate her time and energy
Our pet cabinets never looked so good. Glad our supplies and treats are now organized and easy to find!
We love joanne because she understands us cats and dogs.
Ms Joanne helped to organize my closet. I am grateful for the help and to learn. It also makes my Mom happy when things are organized.
As always Joanne is very helpful and gets things back in order!
Excellent, excellent, excellent. I would give her the key to my house and leave because I know I would come to an organized room; done exactly how I like it.
Maggie did a great job organizing my stuff when I moved, and even dropped off the garbage door opener at my old place.
Me In Order Social Media Reviews Feed
These reviews have been collected through the Me In Order social channels rather than the individual organizers review channels.

"The house looks awesome…I'm off for a bit of R & R this week!"

"Wow! I can't stop bragging to everyone I know about what an insanely great job you did. Blown away. Incredible work ethic and integrity. Plus you actually cared about my relationships with my mom and other family members."

"I didn't think I could afford your service but now I certainly feel great everyday about how well the money was spent. There's less stress at home now!"

"I wanted to thank Me In Order and Lori for helping me get my closet and guest room under control. She was so talented in understanding the best use of the space. I was so impressed that she used most of my own items and did not have me buy much at all, yet made such a change. My husband was skeptical at first but when she was done agreed she could come to help him with his stuff!"

"Look, I am smiling at the end of an unpacking day. I don't think that has ever happened before."

"EXCELLENT — Best money I spent in a long, long time. What a relief to have my office back in order; neat and tidy and a place for everything! My organizer was extremely professional, and worked without ever taking a break or even lunch. She has a charming personality, and it was fun to spend the day with her! In addition to rearranging and organizing, she made great suggestions for things for me to try in the future on my own. I would highly recommend Me In Order. They surely live up to their name!! I am very, very happy. I can function again in a clean and orderly environment! What a huge relief! :-)"

"Thank you sooo much for all of your help, hard-work and insight. We actually woke up this morning feeling a little 'lighter.' We truly feel blessed that God has allowed our paths to cross. Hope you have a wonderful Easter with your family."

"I hired Me In Order because the accumulation of clutter in my home had gotten beyond what my husband and I could handle.  I had never worked with a Expert Organizer before, so I did not know what to expect. I was truly amazed by the speed and efficiency with which our organizing team worked to start clearing the clutter of many years. There was no downtime. Our organizers were engaged every moment, finishing one task and quickly moving to the next one. At the same time, our organizers taught us what to do in the future in order to maintain organization in our home.  The results are wonderful —we can now 'find' things when we are looking for them. Hiring their team was a great decision, and well worth the investment!"

"We are extremely happy with the results from Me In Order. They were professional and followed through with everything they said. I would recommend them to anyone. They have different services that can be customized to each person."

"This is the most wonderful thing I have done for myself and my family. Kelly, from Me In Order, came into my house and is getting the job done. The things I have no idea what to do with, she finds a place for that is perfect for us. She does not stop to eat and works very hard. She is very good at what she does. We are organizing the whole house. 6 bedrooms, 4 bathrooms, kitchen, all the closets. I cannot say anything better."

"This changed my entire family's lives! Me In Order was such a big help. My organizer did not make me feel embarrassed or ashamed. She was very professional and caring. They also has taught me how to do this on my own."

"I was amazed with Me In Order. They handled a project that had been overwhelming me for a long time and after a while I realized I could use a new perspective which they provided. They did it with ease. I want them to come back and help me tackle other areas."

"Me In Order is the BEST! No need to compare. My organizer is professional, stays focused on her task and always arrives on time."

"I'll be making another appointment! I'm still just raving to all my friends and family, what a great idea it is to get an organizer in to help."

"Hiring me in order was the smartest thing I did. I wish i hired them to unpack my entire house. Thanks to Courtney, no one would know i just moved in. I without any hesitation would recommend hiring me in order whether packing or unpacking during move or just looking to get rid of clutter."

"Thanks for sending Lori to my condo today. What could have been a stressful experience was absolutely delightful. In addition to Lori's excellent organizing skills, she has a wonderful and wise spirit. What we set out to work on (bins of photos) with the allotted time was accomplished. Lori left my condo spotless…there was no residual cleanup.
Last week, anticipating that working on my photos would be very tough (i.e.dismantling frames, discarding appropriate photos, etc.) I scheduled lunch with a friend right afterwards as a motivator/reward. Truth be known, I arrived to meet my friend feeling calm, productive & a little bit 'lighter!'
Please give Lori my gratitude!"

"I moved from a 2300 sf house to a 1400 sf condo. It was like putting a basketball in a golf hole. They did everything, absolutely everything!! They were really wonderful. Worth every penny!!"

"Decisive. Less painful than I thought. Wonderful feeling to see the results. This whole process can be difficult but it wasn't. I'm ready for your next visit."

"I had never used a service like this before, but so glad I did. Meredith was absolutely amazing. She was on top of it!! Kept us motivated, extremely sweet and easy to talk to and very focused. Will definitely use this service again. Highly-highly recommend!!"

"I really can't thank you enough. What you do is so much more than a business – you really do change people's lives! You didn't make me feel judged or embarrassed. Thank you so very, very much!"

"Felt like having a couple of friends over to help me accomplish things I can no longer do on my own. THANK YOU!!"

"Amazing service and such a time saving concept. Love it! Now, cannot live without them!"

"Awesome. A++++. Couldn't expect more."

"i had a very pleasant experience with Me In Order. They are very professional. The lady who came over was experienced and efficient and we got a lot done in 4 hours. I would definitely use them again!"

"Hiring Me in Order was one of the best decisions I ever made! Kelly and team worked with me over a few months to sort, pack, donate and toss years of belongings while getting me ready to move. I would have been lost without them!
Purging and packing is a daunting task and it's difficult to start and stay motivated but, with their dedication to my goal, everything got done and on time. The team helped me make decisions and went above and beyond to load my car and theirs with donations. They loaded and hauled the trash. My house was always left in order so that I wasn't living in chaos between visits. Kelly helped to stage my house for sale as if it was her own.
I can't say enough about Kelly and team and feel as though they are friends, not just business associates."

"Frankly I have no idea what I would've done without the amazing service of Me In Order, I just cannot tell you what a great experience it was on every level, the amount of stress that relieved in my life is incredible, thank you."

"Me In Order gave me my home back."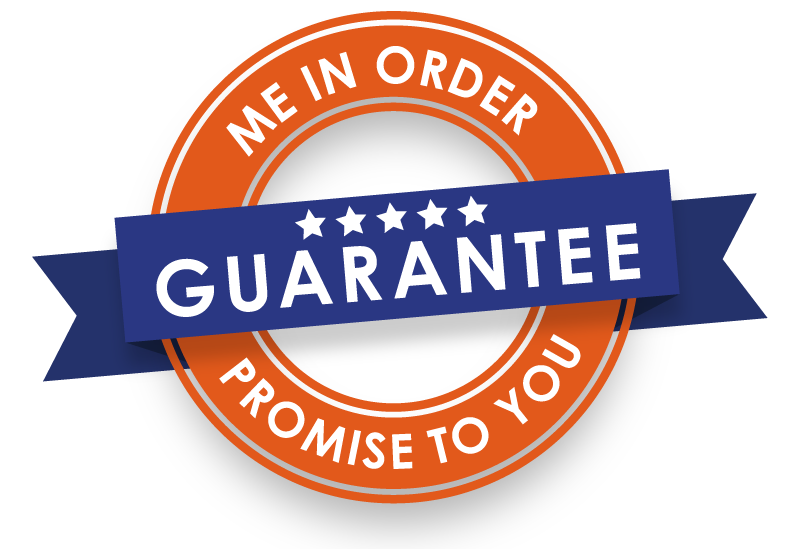 You'll love your organizer...or it's free!
We are so confident that you'll love your Expert Organizer - we guarantee their service.  If within the first three hours of the first session you are not completely satisfied with your organizer, simply let us know and we'll pay them on your behalf.
Need Help?
Call or text us at 866-971-1113
We are here to help Monday – Friday 9am to 6pm. Eastern Standard Time