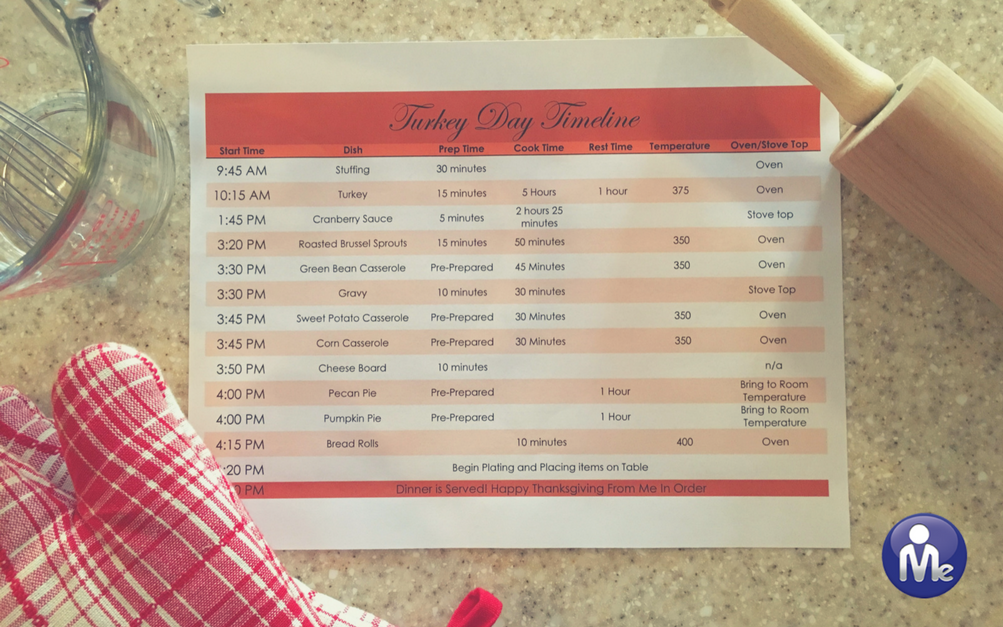 If you are hosting a Thanksgiving dinner at your home, it can be very overwhelming. Because this meal traditionally includes a wide variety of appetizers, sides and desserts, figuring out a way to get it all done in one day seems impossible. That is why we're here to help you plan your feast in an organized manner so you don't have to panic this holiday.
Menu Planning
Creating a Thanksgiving Day menu can seem like a daunting task, but if you break it down into simple pieces, using a divide and conquer strategy, it can be easier than you think. Most people have family dish traditions, some don't even include turkey, but it is important to write out your menu because with so many dishes things might get forgotten.
Start with the main categories such as appetizers, sides, main dish, dessert and condiments. Then create individual lists for those categories.  For example:
Appetizers: meat and cheese, pickles, deviled eggs, salad, etc.
Sides: mashed potatoes, rolls, creamed corn, collard greens, green bean casserole, etc.
Main dish: turkey with stuffing
Dessert: key lime pie, pumpkin pie, coffee and baileys
Condiments: gravy, butter, cranberry sauce
Be realistic about how many dishes you want to make. Think about how many dishes can be made ahead of time or can be served cold to help lessen the stress on that day.
Grocery Shopping
Grocery shopping can be a little trickier because you can't go too far in advanced and you don't want to wait until the last minute. If you have your menu planned, you can create a grocery list based off of that. This will help you get exactly what you need for each dish. You can separate out the items that you can buy in advanced from the ones you need to buy the week of, or just go all at once the weekend before.
Decorating and Table setting
Decorating your turkey day table can happen as early as you are able. If you do not have a formal dining table to pre-set, try using the bar stools in your kitchen or a folding table for everyday meals so you can at least check the décor off your list. Seeing your beautiful table setting may get you excited and help motivate you to get other things prepared too. Create name plates for the seating arrangements so that is one less thing people will need to ask you about when it's time to eat.
While you are setting the table, place your serving ware out so you can see what the spacing will be like. If you are having a buffet, lay them out in the buffet line. Add a sticky note to each serving platter with what dish they will be holding. This will help make the last minute rush of getting everything out of the oven and on to a plate a little easier. So when someone asks "how can I help", tasking them to fill up the platters will be easy and self-explanatory.
Food Prep Timeline
Referring back to your menu, think about each dish and decide if it can be made fully or partially before the day of Thanksgiving. Most dishes that are served cold or at room temperature are great items to prep ahead. Some items such as casseroles or scalloped potatoes can be fully prepared and ready to be placed in the oven.
Cooking Timeline
Again, looking back at the menu, write down the time the dish takes to cook and the temperature it needs to be cooked at. The dish that usually needs the most time to cook is the main dish, whether you're having turkey or prime rib. This step is especially important if you don't have a double oven because if you have things that need to cook at different temperatures it can get tricky. If there is an issue with the different temperatures, see if you can adjust the cook time or consider doing another dish.
Create the cooking timeline from the items that need to cook the longest to the shortest, adding in time if they need to rest. For example, your turkey may need to cook for 6 hours but then rest for an hour. So you need to make sure you have 7 hours on your cook timeline. Set a time you want to be sitting down for dinner and back out the timeline from there.  Fill in the time you need to start cooking each dish and how it will be cooked, oven or stove top. Post your timeline in your kitchen, but also create reminder alarms on your phone in case you get distracted by the Thanksgiving Day parade or football. This is why the timeline is so important, it won't lie and it will keep you on track.
Enlist Volunteers
If you are hosting Thanksgiving, it is more than likely that some of your guests will ask what they can bring. This is a good time to look back at your menu planning list and give them an item to cook. This will help eliminate some of your work and still have the dishes you want on your table. Make sure to follow up with them and ask what type of reheating or cooking they will need the day of so it doesn't throw off your timeline or overcrowd your oven.
Though all the pre-planning may seem like a lot of work, it will make the amount of work and stress you have on the day of Thanksgiving much less. This will allow you to relax knowing that there is a plan and everything will be done and ready for your guests.
One last tip, creating your menu, grocery list and timelines in Microsoft Excel will make the process even easier as you can sort and group items with just a couple of clicks instead of having to rewrite them over and over. Click here to download our spreadsheet you can add your menu in to or here to print and write in your own timeline.
We hope you and your family have a happy Thanksgiving!
Meredith Sopko
Certified Expert Organizer
Meredith is a marketing professional and Expert Organizer with expertise in social media and e-communications. When she's not organizing or on social media, she is at the beach or watching reality TV and drinking wine.