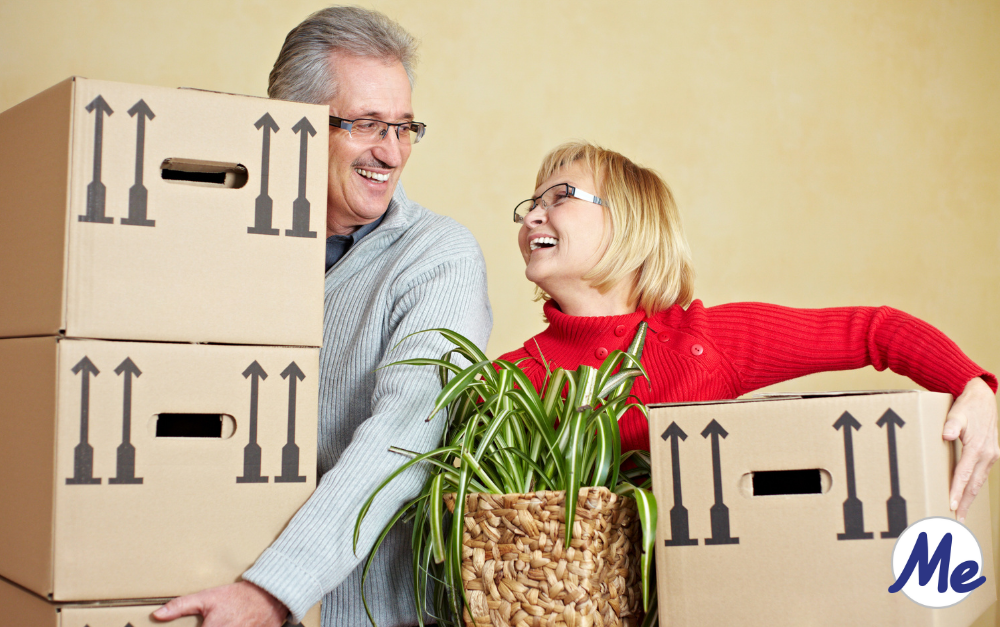 Downsizing a home is a huge decision and a huge process. Whether your kids have finally left the house, or you are helping an elderly family member downsize, we completely understand that this process is overwhelming and time consuming.
Even though downsizing may be stressful; it could also be exciting. You may now be an empty-nester, or maybe you are retiring; either way, living off the basics and enjoying closer quarters can be fun; But again, downsizing takes time, patience and most importantly…this process requires all hands on deck!
Whether you are actively in the process of downsizing, or considering downsizing, the Me In Order team is here to help.
1. We have a non-biased opinion when it comes to your items
Organizing a home full of memories can be daunting. We understand that deciding what to trash, giveaway or donate can be stressful and it may be hard to part with certain items.
Our experts have a non-biased opinion about your items; in other words, we don't have any emotional connection to your items, thereby we can offer advice to help you determine whether or not you truly need an item when downsizing.  We are a second set of eyes that can help you discover that certain items aren't worth keeping.
Sometimes, you do not have the heart to let an item go simply because of the emotional feeling that you have tied to the item itself. Our expert organizers can work to help you decide what to do with your accumulation of stuff using their best non-biased judgement.
For example, someone who is downsizing may have a difficult time purging a stack of magazines in their living room that they have not had the chance to read just yet. An expert organizer can point out that it really isn't necessary to keep old, outdated magazines and to instead, choose the most recent 2-3 editions for the person to read when they have time.
If they do not have the time to read an entire stack of magazines now, maybe they will have more luck reading a smaller amount in a given time. At the end of the day, our goal is to do away with items that you do not necessarily need as the basics in your next home.
2. We are here to help you make decisions
The point of downsizing is simple…get rid of your stuff so you can enjoy a new, smaller space with the items you chose not to purge. Our team of Expert Organizers can help you filter through your items and decide exactly what you should keep, donate, or trash.
We understand how difficult it can be to get rid of items that have been a part of your home and your life for years. Our goal is to ask you the right questions about your items in an effort to help you make the right decision about what you should keep during the downsize.
We will take the time and patience to filter through each item with you and help you come to the proper conclusion about your items. By determining the amount of space you have in your new home, we can help you formulate the proper limits you have with your items.
For example, if your current home has multiple storage closets, an attic, and a garage, and your new home only has one storage closet, then we know exactly the amount of stuff we will have to get rid of in order to make the closet space work.
We can lead you in the right direction to decide what items are needed for you to live a functional, happy life. At the same time, we can lead you to the answer of which items are unnecessary and simply cannot make it to the next home.
3. We will identify organizing systems for your new home
The best part about Me In Order? We are here from start to finish.
Not only will our expert organizers be there during the initial process of cleaning out your old home, but we will be there to help you strategize and set up procedures and spaces in your new home.
Picture this: you just got rid of all your unnecessary items, moved out of your old home, and now you are in a new space completely surrounded by boxes and furniture. Now what do you do? Your team of experts will take over and begin setting the stage for your new home and your new life.
It will be easy for our team to do so simply because we've been there all along; we know what items you were passionate about keeping and what items bring you true joy. As a result, we will display these items across your home and help you create function and life in your new home.
We will also be there to help you create a system within your home and offer our suggestions. We don't want your brand new home becoming cluttered as soon as you walk through the door, so we will unpack your items and organize them in a way that helps you function from day-to-day.
For example, if someone has a nice sitting room in their new home, we will make sure it reflects the activities they love to do while relaxing. This could mean incorporating a stocked bookshelf for the avid reader; arrange photos on the walls that bring back nice memories for the elderly family member; or even designate a nice table near the window for arts and crafts for someone who enjoys crafting projects.
We as expert organizers understand that downsizing is a daunting task and it is definitely a difficult task to accomplish as one person. The Me In Order team is here to help you streamline the process and get everything done in a timely and effective way.
However, we want our clients to recognize that even though downsizing is overwhelming, it is also a time for new beginnings…and that in itself is so exciting! You can make sure that your new beginnings start with a clean slate…and in a clean, and organized home with the help of the Me In Order team.
Me In Order is here to guide you in any way you need to start your organizing project. If you are interested in learning more about how to hire an expert organizer, check out our Ultimate Guide To Hiring An Expert Organizer , or contact us today!
Natalie
Order University Content Creator