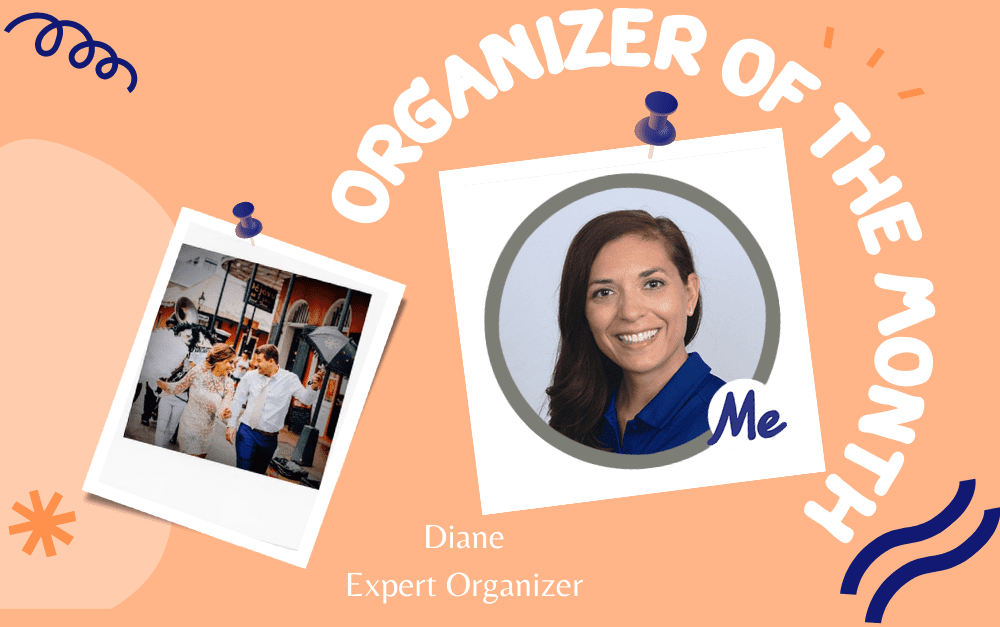 July is the month known for relaxing in the summer sun, enjoying the outdoors, and resetting for the next season ahead. While this is true for most, an Expert Organizer is on their game 24/7 – we aim for YOU to relax while we get the work done!
The dog days of summer inspire us to keep working hard so our clients can enjoy their time off. We're working hard, and one organizer who has truly shown this is none other than Expert Organizer, Diane. 
Diane exudes confidence, enthusiasm, and the skills we look for in an experienced, passionate organizer. Join us in congratulating our July Organizer of the Month, Diane!
Q1) What inspired you to become an organizer?
Diane: I've been organizing my whole life. I remember visiting my younger cousins and making them put all their toys away before we could play. I loved when my one cousin would leave her desk messy because organizing it was the first thing I wanted to do when I visited. I kept all of my game pieces in plastic bags. It's just always been a part of me.
Q2) What is your absolute favorite thing about your career in organizing?
Diane: My favorite thing so far is the trust from clients. I get to go into their homes and really dig into their stuff and their lives. That takes courage to let someone do that. And the pets I get to meet of course!
Q3) What, in your opinion, are the skills, mindset, and experience you think it takes to become an Expert Organizer?
Diane: The skills needed are people skills for sure. A mindset of structure and clarity, the ability to see the potential someone's space has that they are unaware of and being able to understand their way of organizing and how to make changes the most convenient for them to maintain. Experience comes from interest and time. I think you really need to be interested in people and their well-being more than your own attraction to putting things away.
Q4) If you could offer advice to anyone starting in the organizing industry, what would you recommend?
Diane: Link up with Me In Order! MIO has made becoming an organizer so easy with their support and wanting us as organizers to succeed. Also, network, network, network. Networking helps you grow your business and helps you keep up with continued education.
Q5) What are you looking forward to most with your new job through the Me In Order community?
Diane: Making a difference in my client's lives. I want them to be happy I am there and happy I was there and happy to invite me back. Organizing has always made me happy and if someone is inviting me to share that, I look forward to rubbing off on them even if it's just a little bit.
Thank you, Diane, for being an amazing Expert Organizer! We truly love having you on our team.
Want to know more about Expert Organizer Diane? Click here to get to know Diane and schedule a consultation today!