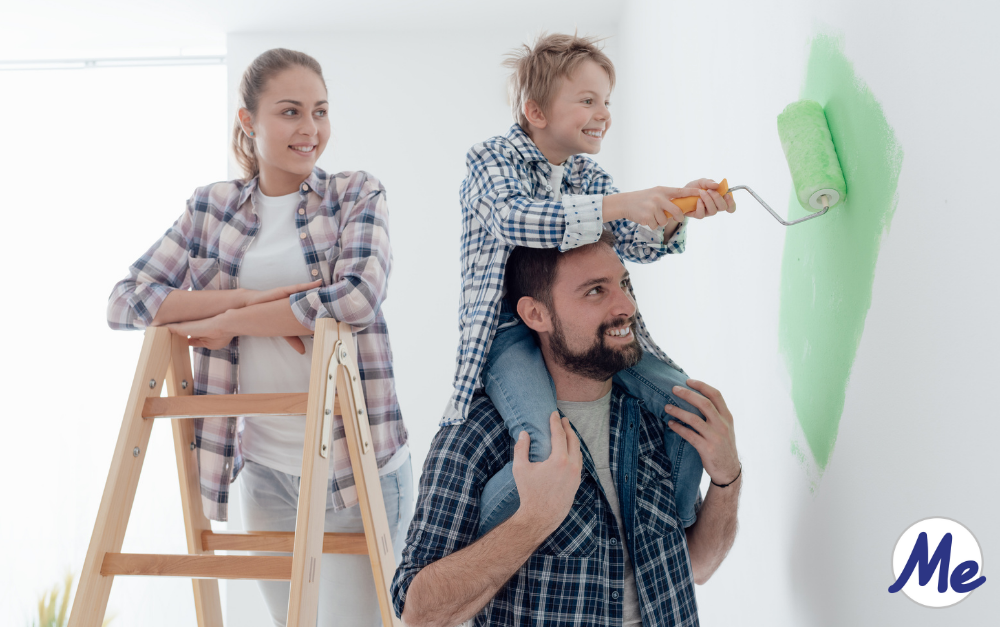 It's finally here. You have waited so long to begin remodeling your home. The hours of planning, saving, and stressing are finally paying off. As much as I would like to tell you that the stress ends now…the work is actually just beginning.
Many of our clients are in the midst of circumstances that cause them to struggle with just keep their life organized from day-to-day. Trust us…it can be very difficult to remain organized during a project as big and daunting as a remodel.  That's why Me In Order is here to help.
As you begin preparing to clear your space for your remodeling, you may ask yourself "Where did all this stuff come from?!" and "How in the world am I going to be able to organize this stuff?" By entrusting the help of our Expert Organizers, we can help you filter through the clutter and make sure you and your family can have a stress-free remodeling experience.
1. We Will Handle "Before-The-Remodel" Decluttering
Whether you are remodeling just one room or your entire house, we know you are on a timeline and we know that you are overwhelmed. Let us take some of the anxiety off your hands…especially when it comes to your living space.
We will declutter your space(s) before you remodel your home. Consider this a before-the-remodel necessity. Contractors will need whatever room they are working on to be clean, clear and free of items so that they can work without the issue of ruining items or worse hurting themselves.
By enlisting the help of our team, we can make sure to take on the tasks of decluttering, organizing, selling, donating, and purging items that will make it difficult for the contractors to work. We will alleviate this task from you, so you can focus on designing your new space.
2. We will Help Design for Function
We can also help with the design project as well. Our team can work with you to make sure that you have the proper organizing system that will work well for you and your family in your new space.
For example, if we know you picked out a certain type of cabinets for your new kitchen, we can work with you to implement a storage system to contain your items within the cabinets. We can help pick which cabinets will be best to use for storing your pots and pans, glassware, dishes, etc.
Think about it; it would definitely be easier for you to place your coffee mugs in the cabinet directly above where you plan on putting the coffee maker…instead of putting them in another place on the opposite side of the room, out of reach.
Our team is all about figuring out the right systems and organizing procedures that will work best for you in your new space.
Let's face it…you are spending all of this time and money to design your new living space. You want to make sure it is not only beautiful, but also functional so you will spend more time in this desired place within your home. A space that lacks function is not enjoyable to be in.
3. Relocating? We Can Help
Let's say you're not just remodeling one room and your remodel requires you to relocate. This is not a problem at all and we can help!
Our team of experts has great connections with movers in the local area. We can help you secure your move, pack your items, and unpack your items at your new location.
You wouldn't think it…but there is a special way to pack boxes especially for moving purposes. We know exactly how to pack certain boxes and coordinated box sizing with your items. For example, we wouldn't use a giant box for books as this could be heavy and uneasy to carry. Instead, we would use smaller boxes to stack your books and carry to your new location.
We are also experts at making sure you keep your paperwork organized on your move to a new location. During the process of relocating before the remodel, you definitely don't want to misplace any important documents.
Personally, I recommend investing in a portable storage bin. Our team can help you file and filter through your documents and arrange them in the portable storage bin so that you know where your items are at all times. Knowing your items are secure and in a specific place will definitely prevent an added layer of stress during the relocation.
We encourage you to just relax and enjoy this process. We know you have a lot to do in order to prepare for this massive project. The team at Me In Order understands and we are here to use our expert organizing skills to help you trim down the stress and focus on the beautiful new space you are about to live in!
Me In Order is here to guide you in any way you need to start your organizing project. If you are interested in learning more about how to hire an expert organizer, check out our Ultimate Guide To Hiring An Expert Organizer , or contact us today!
Natalie
Order University Content Creator