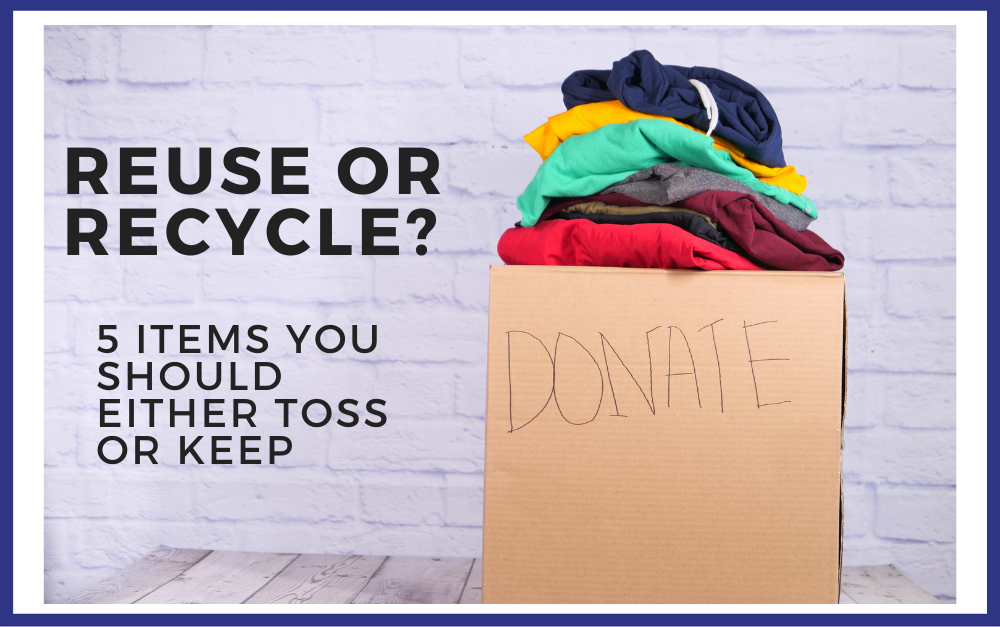 When it comes to organizing your space, you may run into challenges when deciding what to keep or toss. 
You may be on one side of the scale where you're ready to toss everything in sight. Or you may find it hard to part with every item because they hold sentimental value. No matter where you fall on the scale, you might be able to find some flexibility in the midst of the extremes of organizing. 
So, where does that specific item stand? Should you reuse it, or recycle it? Here are five items that you should either toss or keep:
1. Children's Artwork – TOSS
You might feel inclined to keep every piece of artwork your child creates. It can be tempting to keep every stick figure and papier-mâché creation. However, their masterpieces could take up crucial space in your home (and your peace of mind!)
Select a few of your most prized creations and go ahead and toss out the rest. You can even display those treasured pieces in picture frames throughout your home, so you can always be reminded of your children's skills. 

2. Storage Bins/Baskets – KEEP
If you're looking to get organized and you think you need the trendiest new storage bins from The Container Store, you are sadly mistaken. We focus on functionality, rather than just aesthetics. You can get organized using the items you already have without breaking the bank purchasing new, "hipper" items.
If you already have storage bins or baskets, go ahead, and set those aside. They could come in handy when it comes to organizing those closets, bathrooms, and more!
3. Unused Cosmetics – TOSS
However, those expensive products that are cluttering your medicine cabinets have got to go. If you haven't used them yet, you definitely won't use them at this point. Plus, they are most likely already expired at this point. Sometimes we hold on to products because we invested a good chunk of change into them. 
If you feel bad tossing these unused cosmetics, you can even gift them to a friend or even donate them to a women's shelter. This could help with parting ways and knowing they are going to a good home.
4. Important Paperwork – KEEP
Be cognizant when you go through your stacks of paperwork – you don't want to grab everything and immediately toss it in the trash. You could potentially be throwing away important documents.
Make sure to keep your priority items such as birth certificates, tax documents, property documents, medical records, etc. Take your time to go through your paperwork and avoid throwing out anything you may need in the future. If you're not sure about what documents you keep, you can always go to your Me In Order Expert Organizer for guidance. 
5. Books/Magazines – TOSS
If you have piles of unread books and outdated magazines, it's time to toss them. You might claim that you will read them "eventually", but at this point, if you haven't already, then it's time to condense on your reading material. In this case, you can consider donating your gently used books to schools, libraries, churches, or after-school care. 
Are you ready to get sorting?  If you are interested in learning more about how to hire an expert organizer, check out our Ultimate Guide To Hiring An Expert Organizer, or contact us today!​