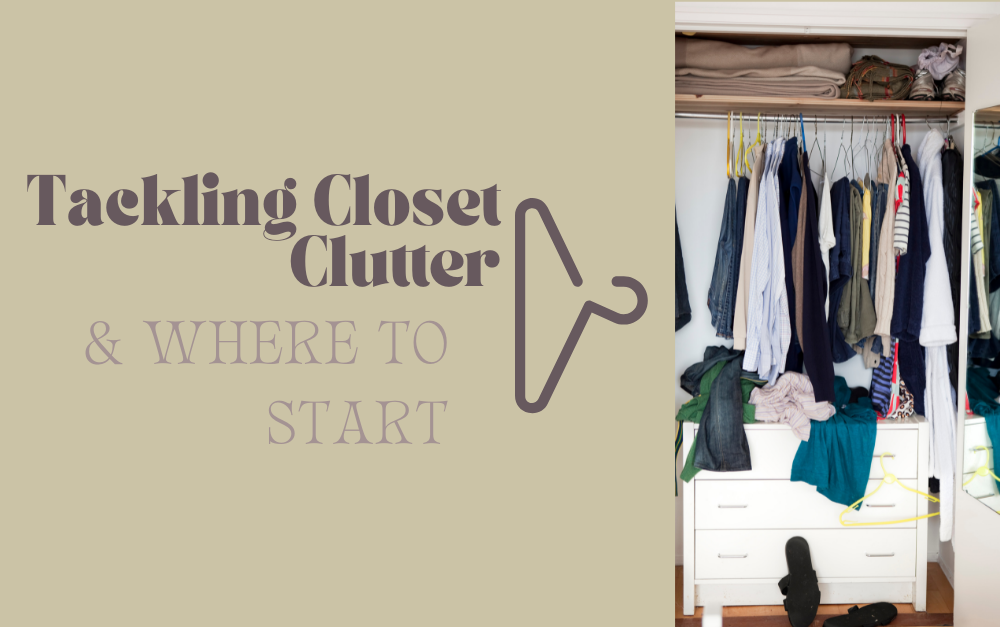 Do you grimace in pain every time you open your closet door?
Are your clothing items overflowing from drawers and barely hanging on to hangers?
Do you wish you could wave a magic wand and have your closet become perfectly color-coordinated and organized?
While organizing closets can appear overwhelming to some, to others (especially Me In Order Expert Organizers) they are our specialty! We absolutely adore tackling closets, but we also understand that for some, it can be hard to know where to start.
Cleaning your closet doesn't have to be a chore! Here's how our team of Expert Organizers conquer closet decluttering: 
Start with the floor – pick up anything that is laying on the floor or haphazardly thrown into the corner of the room.

Determine if the articles are dirty or clean – make a pile for both

For the dirty clothing, get started on laundry; that way, you can kill two birds with one stone

Remove everything from the closet (this might take a while!)

Start sorting through your items and segmenting out each piece into different categories:

Keep Pile – designate a space for the items that you love and cannot live without

Donate Pile – determine what you can donate and what would go to a better home

Trash Pile – toss out anything old, ruined, or torn

Repairs – start a pile for clothing that needs to be altered or fixed (but only if you actually plan on getting them repaired!)

Seasonal – segment your Keep Pile into seasonally based clothing

Color/Style – start arranging your Keep Pile into colors, short sleeves, long sleeves, work pants, etc. Really get specific with your items and how you want them to be organized in your closet. Take your time here. Light a candle, put on some music, and really enjoy this process of designing your dream closet. You can even think of this as "filing" your clothes.

Shoes/Misc. – do the same thing with shoes/anything else you have in your closet

Prioritize by use. If you live in Florida, you will maybe need your heavy jacket once over the course of the year. Move items you don't use as often to the back of the closet.

Display the items you love. If you have a favorite handbag, go ahead, and put it at the front of the closet. You want to showcase your beloved items, while also providing a functional space that works for you.

Start loading your items back into the closet based on what you want to see (color, season, most beloved clothing, etc.)

Tote those trash and donation items to their new homes and sit back and enjoy your new and improved closet!
Organizing your closet doesn't have to be stressful. And, with the help of an Expert Organizer, you'll find you might even enjoy closer organizing!
Me In Order is here to help you get in order in 2022! If you are interested in learning more about how to hire an expert organizer, check out our Ultimate Guide To Hiring An Expert Organizer, or contact us today!