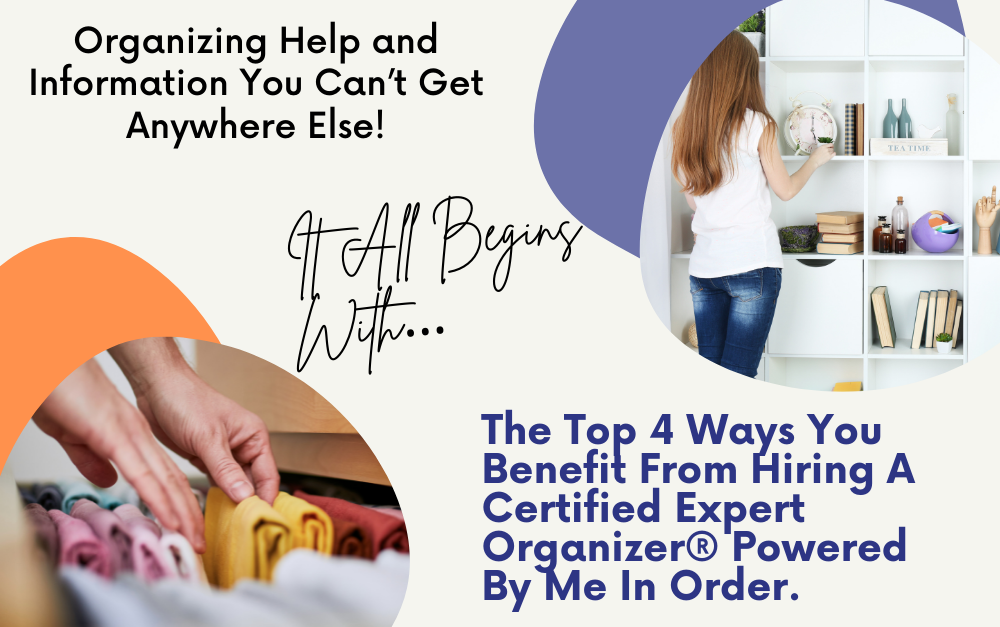 When you log off after a hard day at work, you envision the moment you get to walk through the door of your home. You crave kicking off your shoes, putting on a change of comfy clothes, kicking back, and relaxing.
However, it can be hard to relax and enjoy the comfort of your home when you are surrounded by clutter. An unorganized home space can lead to an uneasy mental space, and it can be hard to really enjoy the home you know and love.
Enter a Certified Expert Organizer® from Me In Order. Suddenly, your home is transformed to the peaceful space you have always wanted. You are finally able to enjoy the aesthetic of your house and make the place one that you actually want to spend time in.
Getting organized is the one thing keeping you from achieving your goals. And it all begins with the top 4 ways you can benefit from hiring a Certified Expert Organizer® Powered by Me In Order.
1. Certified Expert Organizers® Are Experts
Expert Organizers are here to help clients create order with or without them present. An expert is defined as someone who is decisive and goal-oriented for their client and their client's needs, focusing on the best solutions for someone in their spaces.
Every member of the Me In Order community of Expert Organizers has been thoroughly vetted, educated, mentored, and certified through Order University™. Through Order University's unique mix of classroom education, field experience, mentoring, and continuing education, we are able to offer the very best that the organizing industry has to offer in every city that has Me In Order Certified Expert Organizers®.
You can be rest assured that your needs will be met and exceeded by a true expert in the organizing industry. There is no stress wondering if you are hiring the right person for the job; you will benefit from working with a true expert in their field.
2. Certified Expert Organizers® Are Efficient
Let's face it – the amount of time and energy it would take to tackle your home by yourself is extremely overwhelming and even enough to keep you from trying. Expert Organizers are there for you to hit the ground running. Years of experience have offered Expert Organizers the ability to tackle anything that comes their way in a quick and streamlined way. 
You might spend hours deciding how to reorganize your closet so it's more functional for you. An Expert Organizer can get in there and come up with a strategy on the fly and implement the change in a way that works best for you. You're not alone when you're working with an Expert. Expert Organizers are here to get the job done and get you on your way to peace!
3. Certified Expert Organizers® Will Help You Get Back to Doing What You Love
The amount of time and energy you would use to get organized yourself on your own could be preventing you from doing the things you love. By having an Expert Organizer help with your project, you'll be able to dedicate more time to your favorite activities. 
Cleaning out your kitchen with an Expert Organizer will help you enjoy more meals with your family. Organizing your living room with an Expert Organizer will help you kick back and relax after a long day. Tackling your garage with an Expert Organizer will give you that much-needed space to get back to your old beloved hobby. Whether you attempt to do the work yourself or you just haven't started yet, if you allow an organizer to help, you will be on your way back to doing the activities you enjoy.
4. Certified Expert Organizers® Are Not a One-And-Done Solution
The good news is we aren't going anywhere! An Expert Organizer isn't going to leave you in the dust after an organizing session; it's a growing relationship. Some of our clients have been working with our Experts for years and have become like family. Plus, with our membership options, we can make regular sessions a reality. That way, you are living life as your best organized self!
And the best benefit? We're ready to start working with you now! If you are interested in learning more about how to hire an expert organizer, check out our Ultimate Guide To Hiring An Expert Organizer, or contact us today!