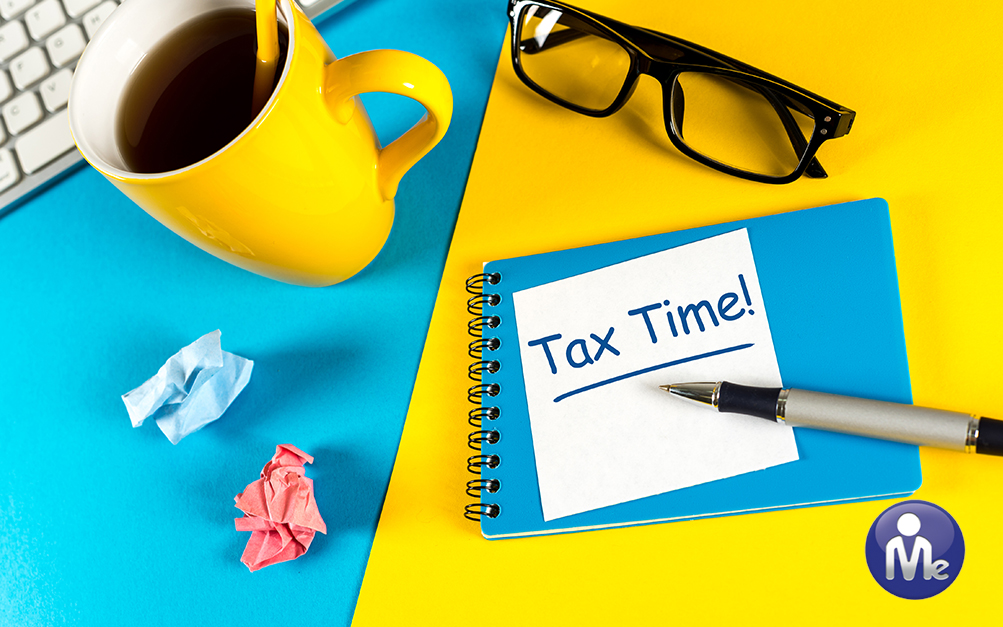 Need to get organized for tax season? Me In Order will help you get organized! We are here to help you alleviate the stress for Tax Day!
Tax Day is coming up and if you haven't prepared yet…I promise…you are not alone.
Millions of Americans wait until the last minute to get their tax documents in order. Trust me…I am the queen of procrastination when it comes to taxes and I know how easy it is to push this daunting task off to the side until the day before.
Thankfully, Me In Order has some great tips that will help you get organized for Tax season! We are here to help you alleviate the stress for Tax Day!
1.) Make sure you have the appropriate forms
Step one is to make sure you have the proper documents in order to begin your journey into Tax World.
Dive into your junk drawer and pull out your W2, 1098, and/or 1099 forms. You should have received all of these documents at the end of January; but if you did not, contact your employer ASAP. You will need these well in advance before you begin filing. Thankfully,  you can always file for an extension which will allow you more time to get your documents together; but you want to make sure you have everything you need and in one place.
2.) Create a filing system
Speaking of one place; it's important to have some type of filing system that works for you and isn't a junk drawer full of papers.
I am a huge advocate of my "File Box" as you can see below. I depend on my file box heavily to keep my important documents, receipts, agreements and contracts organized and within an easy arms-reach. I have a tab designated for each item and I know exactly where each document is located in case I need it.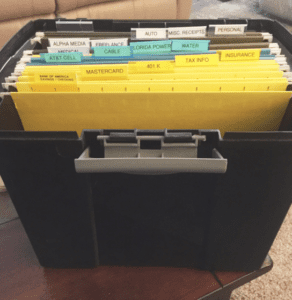 I highly recommend structuring your documents into some sort of filing system. As easy as it is to dump all our documents into a junk drawer or just add it to the pile on the kitchen table… it becomes stressful sifting through piles of documents when you are on a deadline for Tax Day.
If you are not a fan of a physical filing box, then scan all of your documents and keep them stored on your computer. I recommend designating a thumb-drive, or an Internet cloud service to file your documents, so you can access them from anywhere. Google Drive is my preferred source for filing away my important documents online.
3.) Shred documents you no longer need
If you are going the route of uploading your files into an Internet source, it's important to shred the documents you no longer need. You want to do so in an effort to keep yourself safe from anyone else accessing your information. Taking precautions such as these will keep your anxiety at ease and will prevent anything detrimental from happening in the future.
I, myself do scan some documents and keep them on my Google Drive, but I prefer keeping all my documents in one place (my file box) for up to a year of time. At the end of each year, I clean out my files and shred the documents I no longer need. I know for some, these old documents can pile up around the house, so if you do decide to keep your hard copies after you are done with them, then make sure you have a filing system in place.
4.) Be mindful of deadlines
It is important to keep in mind when everything for your taxes are due. I found a great website that has helped me prepare for 2019 and I refer to it when I need to know what is due next.
I also like to make sure that my dates are highlighted in my calendar. I add alerts a few days before just to make sure I am still in place to meet the deadlines I need to make so that there are no surprises. Incorporating these due dates into your daily calendar will keep you on top of everything and thereby reduce your stress during this time.
5.) Duplicate this system for next year
Now that you have a system in place with your filing your documents, you know the deadlines, and you have the proper forms, you are ready to begin.
It's important to use this system to prepare yourself for the following year. Developing a system that works for you and truly eases your stress will only help "future you" within the years to come. Even though "you now have a year to get everything together",  it's important to prepare now and help yourself ahead of time to make sure you are ready for Tax Day next year. Make sure you're organized for Tax Day with the help of Me In Order now!
Me In Order strives to bring peace through organizing, and by developing a system using our tips, and continuing to follow this said system, you will be less anxious the next time Tax Day comes around. We understand that this is an overwhelming time, so if you need any help with organizing your files, feel free to reach out and book a consultation with one of our Expert Organizers!
Me In Order is here to guide you in any way you need to start your organizing project. If you are interested in learning more about how to hire an expert organizer, check out our Ultimate Guide To Hiring An Expert Organizer , or contact us today!
Natalie
Order University Content Creator