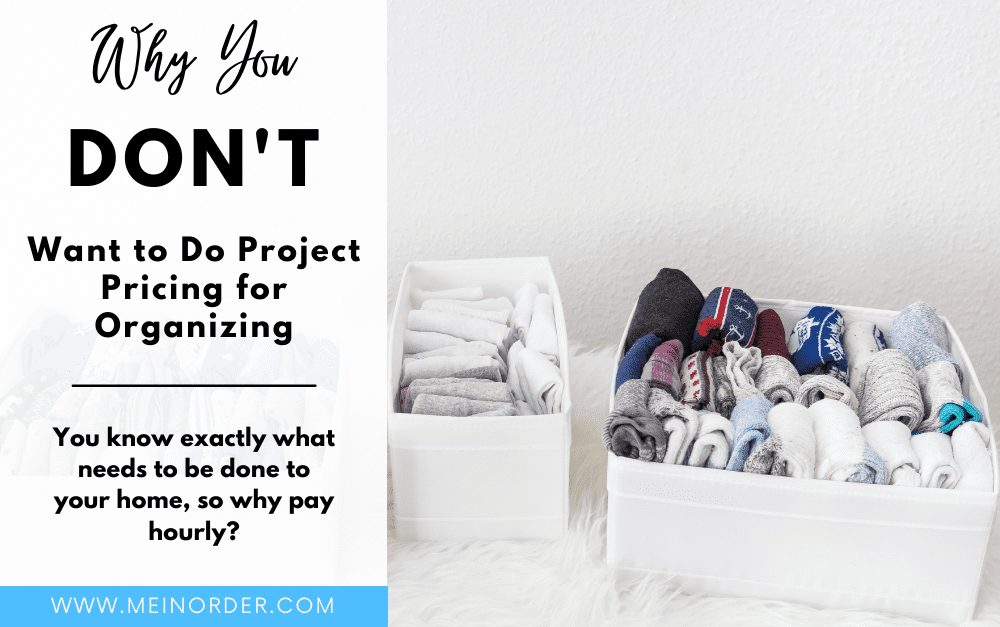 Picture this: you're researching the best professional organizer in your area.
Your home needs some help, especially with the kids going back to school, summer ending, and prepping for the holidays that are quickly approaching. So, you decide to enlist the help of a true expert who can help you tackle your home.
You decide to start with the kitchen. It's the most used room in the house, and it would be a breath of fresh air to get the overflowing cabinets organized and clear off the kitchen table so you can enjoy a meal with the family after a busy day. You know what needs to be done…so now what?
Enter Me In Order, your professional organizer search made easy. You love our mission and you're excited to get started with the professional organizer of your choice. However, you want the organizer to price out the specific job at hand, instead of by the hourly rate of service. You've been around this rodeo before, and you know exactly what needs to be done, so why pay hourly?
We understand your concerns and we're here to help! Here's why you don't want to do project pricing for organizing:
 1. Project Pricing Ensures a Win/Lose Situation
No matter what the project is at hand, it will always be a win/lose situation versus a win/win situation. Either you or the organizer will lose money and/or time. By pricing per project, one of us is bound to miss out, and we don't want that; we want both parties to benefit from our service. By charging by the hour we ensure that you only pay for the work that has been done – and to your satisfaction since we collect payment at the end of the session. We want to bring you order and peace, and we want to continue our mission to make the world clutter-free and enjoyable! With hourly pricing, we are able to make this so each party benefits. 
2. Organizing Doesn't Have a Definitive End Point
Organizing is said to be more like a journey than a destination. Unlike other service-related jobs, organizing often has a moving end-point. This has a couple of reasons. 
First, when you hear the word "organized" what comes to mind? The image that you have in your mind right now is going to be different for your neighbor. Everyone has different perspectives on what a "finished" organizing project looks like. Certified Expert Organizers® are educated in both learning what you picture to be a finished space and helping you discover what that picture is if you are having a hard time getting there mentally. 
In addition, we have learned that as we help you organize your space you begin to see possibilities that you had not been able to see before in that space. And many times this means taking the organization up a notch or two from what you had previously envisioned for the space. 
While project pricing doesn't allow for this, hourly pricing allows you to remain in control of how much time and money you invest into the service. 
 3. You Will Be Stuck in A Contract
With project pricing, you are guaranteed to be looped into a contract. Project pricing requires a contract in order for all parties to agree to the terms of the project, which may not be all that black and white. With hourly pricing, there is no need to lock yourself into a contract, because it is per hour, and you will know what to expect from each session, rather than a project price that is a little less clear and offers room for grey areas.
4. You Will Not Have Control
You will most likely be stuck with the original organizer you work with if you go the route of project pricing. Once you sign the contract, you are stuck with one person who is there from the beginning of the project to the end. While this might seem good in some situations (if you really like the organizer) it could prove fatal as you will not have the ability to test the waters with someone else who could bring more expertise to the project over time. Ultimately, you will not have control of the situation, and at Me In Order, we pride ourselves on letting our clients have just as much control as the organizers do. We are here to bring you peace…not more overwhelm. 
Want to learn more about project pricing versus hourly pricing? Me In Order is here to guide you in any way you need to start your organizing project. If you are interested in learning more about how to hire an expert organizer, check out our Ultimate Guide To Hiring An Expert Organizer, or contact us today!