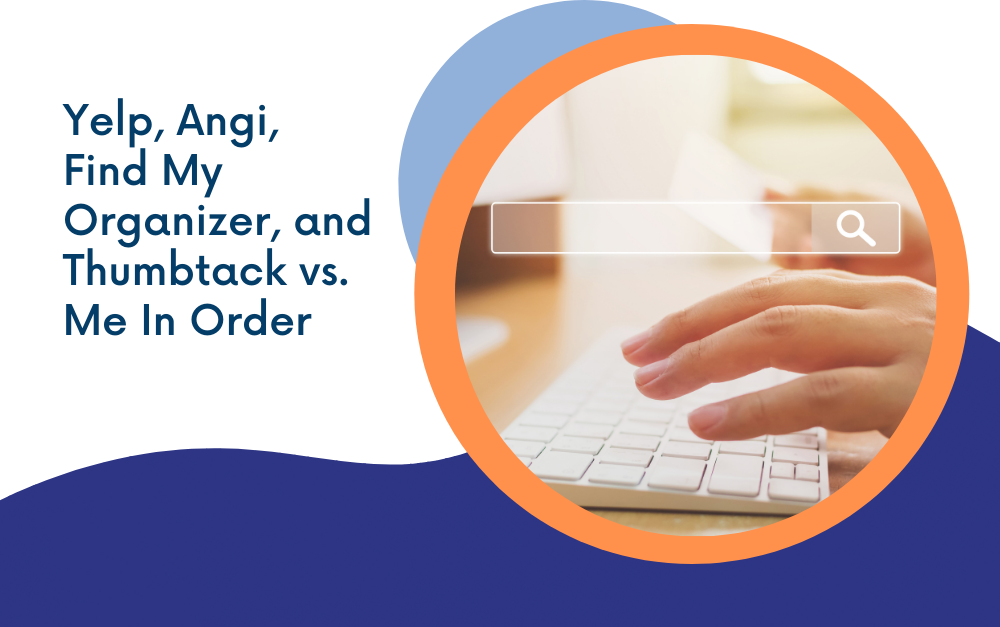 When it comes to searching for a professional organizer, you might not know where to start. There can be a variety of avenues to find the best person to get the job done.
You might start by asking a friend for a recommendation. Maybe you look for advertisements in the local paper. Or, perhaps, you desperately try to remember the name of the person who helped your mom's cousin's friend's sister. These are great options for finding workers, but is it really the best way to find a true expert? 
Think about it – this person will be entering your home. They will be coming into your life, possibly engaging with your family, and certainly seeing all your items and tapping into your habits. It can be a vulnerable experience, and you want to ensure you have the best of the best tackling your home organizing project…not just any Joe Schmo off the street!
Sure, you could look to Yelp, Angi, Find My Organizer, or Thumbtack, but what do those services truly do for you? 
You want the trusted source…that being, Me In Order! We're here to show you how Me In Order truly compares to our competitors, and how we can be the trusted service for your next organizing project. Here's the breakdown of all these services versus Me In Order:
1. What Do You Get from Each of These Services?
Each platform provides an opportunity to find service workers in your area. Simply by making a search online, you can find whatever you need. From plumbers to restaurants and from handymen to professional organizers, there is certainly no shortage of businesses you can find on the internet. 
It may appear overwhelming to filter through so many different platforms, but with each service you get specific perks. These perks range from reviews to instant connection with workers, to emergency service, and loads of local listings.
2. What Do These Services Require to Join?
Most of these services provide free memberships – meaning a business doesn't need much to join. If a business decides to advertise or pay to show additional service options, they certainly have the ability to do so; the only thing that is required is dollars to spend. For example, while Yelp is a well-known platform, it costs money to pretty much do…anything.
Essentially, anyone can join these platforms. And, they can advertise their services as well while undergoing "pro" certification processes offered through Angi and Thumbtack.
3. What Do These Services Do on My Behalf to Protect Me?
Yelp, Angi, Find My Organizer, and Thumbtack are all open to all users on the internet, and while these platforms may have efforts to help with trust and safety, almost anyone can create an account on these platforms. 
It doesn't take much to make a profile on each site. Some have paid service options, but most of the time, it is easy for a business owner to make a profile and market themselves on these platforms. Angi and Thumbtack require background checks for their pro certifications, but Yelp and Find My Organizer do not.
4. Who Can Join?
The truth? Anyone can join these platforms! Business owners and workers can simply make a profile and wait for their leads to (hopefully) roll in.
5. So… What About Me In Order?
We're not called the experts for nothing! Me In Order. So, why choose us?
Every member of the Me In Order community of Expert Organizers has been thoroughly vetted, educated, mentored, and certified through Order University™. Through Order University's unique mix of classroom education, field experience, mentoring, and continuing education, we can offer the very best that the organizing industry has to offer in every city that has Certified Expert Organizers® powered by Me In Order.
In Addition, every Me In Order Expert has their own 5-Star rating and achievement badges proudly displayed on their personal website page. This enables you to choose the expertise level that matches your project needs and budget. With our unique experience-based pricing you have options when it comes to choosing the right expert for your project.
In layman's terms… Me In Order does it all! Here is what you can expect when you hire a Certified Expert Organizers® powered by Me In Order:
Our Experts are asked to become certified by invitation only

Our Experts are required to have a minimum high school diploma or equivalent 

Each Certified Expert Organizer® must pass a vigorous background screening

Each Certified Expert Organizer® must complete & pass all Order University classes as well as pass Order U final exam with a minimum of 70%

They must adhere to ethical standards

They must complete 30 continuing education hours per calendar year

They must maintain at least a 4+ stars rating with their verified past client reviews

They are insured and bonded through Me In Order

Me In Order guarantees their service 
As you can see, going with a Me In Order Expert is truly the right choice! Me In Order is here to guide you in any way you need to start your organizing project. If you are interested in learning more about how to hire an expert organizer, check out our Ultimate Guide To Hiring An Expert Organizer, or contact us today!​