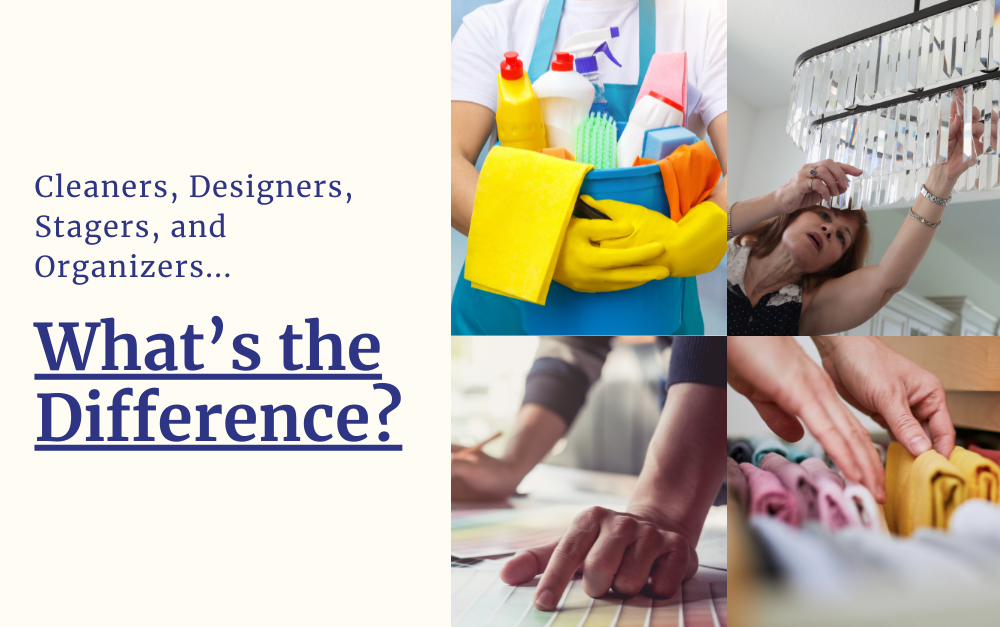 Sometimes, people have difficulty understanding the differences between professionals that are in similar or complementing industries. So, to help, Me In Order has put together a post describing those jobs that are similar to Professional Organizing. That way, you know the difference and can make the accurate choice when it comes to your project! Cleaners, designers, stagers, and organizers – what's the difference…? We're here to break it down for you:
Cleaners Vs. Professional Organizers
A cleaner is going to differ from a professional organizer in many ways. Me In Order receives a ton of inquiries stating, "We need our space to be cleaned and organized" and lump these two together into the same function. A cleaner is going to clean – i.e., toilets, bathroom, mildew, etc. They do what they do best in the arena when it comes to cleaning.
An organizer will clean around what they are working on – for example, if there is a bookshelf that they are organizing, they will unload the bookshelf, and before loading it back, they are going to dust those shelves. They will do so because they will not create an organized space that's dirty.
Professional organizers clean in terms of what they are working on, and in doing so, they ensure that their results are a properly organized space (that is also clean).
When you pay for both professional organizer services and cleaning services, you are paying for their expertise. In theory, you are paying a professional organizer to create function and clear clutter; not dust or scrub.
Sometimes people will want to hire someone who can organize AND clean. We highly discourage this as a professional organizer is paid a certain rate for their expertise, much like a cleaner, because of their level of expertise. A cleaner's rate is going to come in lower than a professional organizer's rate, so essentially, if you are paying a cleaner's rate for organizing and cleaning, you are going to receive a cleaner who likes to make things look pretty. They would not be organizing based on your needs, circumstances, or space functionality. It's also worth mentioning that a true professional organizer will organize a space for you – that is they will organize based on what your needs and circumstances are. If they just organize based on what works for them as an individual then your organizing systems will quickly fail because they were not created for you and your specific needs and circumstances. 
Designers vs. Professional Organizers
Designers are focused on the aesthetics of the space; they are not as focused on the function of the space. We have several different design partners that utilize Me In Order, because they understand that they are not organizers.
A professional organizer paired with a designer is a great solution as it allows someone to have the aesthetics and function within a space. Professional organizers focus on functionality for the space and might butt heads with designers, as designers are focused on the look and feel of the space, not how it works for the homeowner. Don't get us wrong; professional organizers want the aesthetics as well (we love a beautiful organizing job!) but we want the functionality of the space to be first and foremost when it comes to an organizing project.
Stagers vs. Professional Organizers
The purpose of staging is to get more money for the sale of a home. Depending on what your circumstance is, you can use either a stager or a professional organizer. If you have an empty space, and you want the home to sell at a higher price, a stager would be able to utilize the inventory that they have in furniture/furnishings to make the space appealing for a potential home buyer.
An organizer does the same thing, but they would be better suited for the homeowner that was still living in the home during the sale. An organizer will help that homeowner de-personalize the home and begin to pack the home, so potential buyers can see themselves in the space. They will help make the space look better because the space will essentially be uncluttered. A stager will start with a blank slate and bring in their own pieces to provide a solution.
We hope this helps you learn the difference between cleaners, designers, stagers, and organizers! 
As you can see, going with a Me In Order Expert is truly the right choice! Me In Order is here to guide you in any way you need to start your organizing project. If you are interested in learning more about how to hire an expert organizer, check out our Ultimate Guide To Hiring An Expert Organizer, or contact us today!​