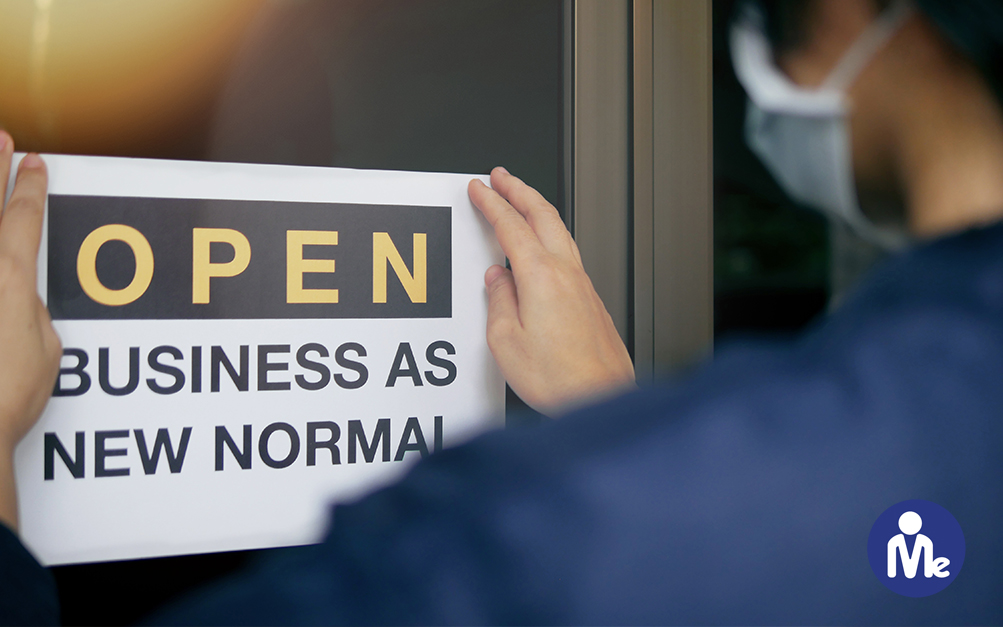 New organizing habits are necessary during these times of change, and here is how you can get take on this new normal with the help from Me In Order.
As we continue to conquer these uncertain times, we can always be reminded of the good that comes from the bad. 
2020 has given many new opportunities. Some are experiencing working from home for the first time, others are finally managing an equal work-life balance. Many are spending more time with family, and all of us are starting to focus on our long-forgotten hobbies. Although times are tough, we are tougher, and we are all getting through this together.
As we begin to navigate our "new normal" we can be humbled with the opportunity to change our current habits. We can spend more time considering our health before anything else. We can think about how our actions affect those around us. We can begin to foster new habits that will bring positivity and light to our ever-changing world.
At Me In Order, we pride ourselves in accepting change. We are versatile, and we are able to advance with the times. As we weather the storm of adjustments, we are here and ready to tackle new health guidelines, new habits, and new opportunities.
Getting organized is necessary during these times of change, and here is how you can get organized to take on this new normal:
1. Keep a Safe Distance
Our new normal calls for following new guidelines. We need to be extra conscious of those around us. Everyone is dealing with our current situation differently, and we need to be considerate of that. Be accepting of how others are feeling, and keep a safe distance always. Remaining 6-feet apart is now our new normal, so keep that in mind when you are in line at the grocery store, walking on the sidewalk, or enjoying a night out with friends. 
2. Do Your Research
Now that businesses are reopening, it's important to get organized and do your research before you go anywhere. Many companies have revised their hours, their services, and their guidelines, and you want to make sure you abide by their new instructions in order to use their facility. Take the time to do some research on their website, or give them a call to find out what their latest terms of service are. You don't want to show up expecting a fun experience only to be turned away at the door.
3. Always Have a Mask 
Now, more than ever, you should always have a mask either on, or near you. Many places will prevent entry if you do not have a mask on-hand. Take the time to put a mask (if possible) in either your purse, car, or work bag. That way, you will always be prepared if a mask is needed at a specific facility. 
Keeping hand sanitizer, tissues, gloves, and other preventative materials is an excellent idea as well. If you can, create a "Safe Kit" that holds all the necessary items. Keep this safe kit in your car, or in your purse. That way, you are always organized, and always prepared. 
4. Rely on Friends & Family 
If you are uncertain as to how to navigate these new changes, rely on your friends and family. We're all in this together, and simply conversing with your loved ones will get you on the right track to getting and staying organized during this time. Your best friend, coworker, or sibling could offer some much needed advice and support during this time. 
Use the people closest to you to learn about these new changes and maintain a level of open communication about what you are experiencing and going through during this time.  
Our team of professional organizers at Me In Order knows that these times are growing more and more interesting by the day. It's important to stay vigilant and stay informed with the latest guidelines, and do your best to navigate through the changes. We are all in this together, and we are all experiencing these adjustments together, so use our team as a crutch during this time. 
During this time, we need to create new habits, routines and keep it all organized. If you need help getting organized during these new changes, our team of professional organizers are here to help! 
Me In Order is here to guide you in any way you need to start your organizing project. If you are interested in learning more about virtual organizing and how to hire an expert organizer, check out our Ultimate Guide To Hiring An Expert Organizer , or contact us today!