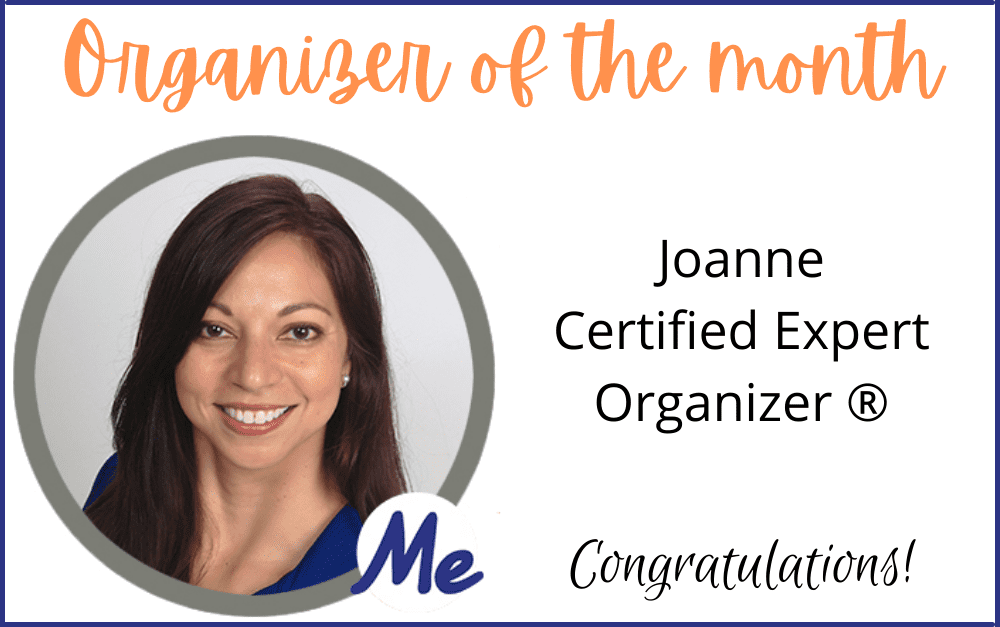 The first six months of the year have flown by! As we begin to enter the second lap of the year, we are excited to know that good things are on the horizon, not only for Me In Order but for the world in general. 
The world is opening back up and things are starting to get back to somewhat normal and it gives us time to reflect on the people who truly helped us get through the craziness of 2020. We're thankful for those who worked hard, remained positive, and helped be a shining light in the midst of darkness known as COVID-19.
One of those shining lights is none other than Joanne Duchrow. This hard-working dedicated Certified Expert Organizer® truly thrived during 2020 and we don't know where we would be without her. Join us in congratulating Joanne on our Organizer of the Month recognition; we could not have gotten through the last year without her and her talent! 
Q1.) What is your favorite thing about being an Expert Organizer with Me In Order?
Joanne: My favorite thing about being an Expert Organizer with Me In Order is that I am able to be a part of a well-established organization that garners tons of clients who are able to keep me busy in a meaningful way. 
Q2.) As an Expert Organizer, what do you hope to accomplish in your career?
Joanne: I want people to know me as someone who can really make a difference in their lives and refer me to as many people as they can, so I have a bigger impact on the community.
Q3.) What is the most challenging part about organizing and how do you combat that?
Joanne: The most challenging part about my job is if there is a conflicting opinion in a household about hiring a professional organizer. For many, it takes time to warm up to the idea of having a stranger enter their home and go through their things, while others are excited about getting organized. Sometimes, it just takes some time to see the difference before they are truly involved and onboard with the idea. 
Q4.) If you could offer advice to anyone pursuing a career in organizing, what would it be?
Joanne: The advice I offer is to take the Foundations course offered by Me In Order. They have a great program that is solidified by experts to answer any questions you may have. Then, an expert organizer helps to guide you through the job before you're put on your own. 
Joanne is an example of a helpful, hardworking, positive force in the professional organizing industry.  As she continues to make strides in her community, we look forward to seeing her shine and make a difference. Thankfully, with the help of Me In Order, she will have every opportunity to do so! 
Want to know more about Expert Organizer Joanne? Click here to get to know Joanne and schedule a consultation today!