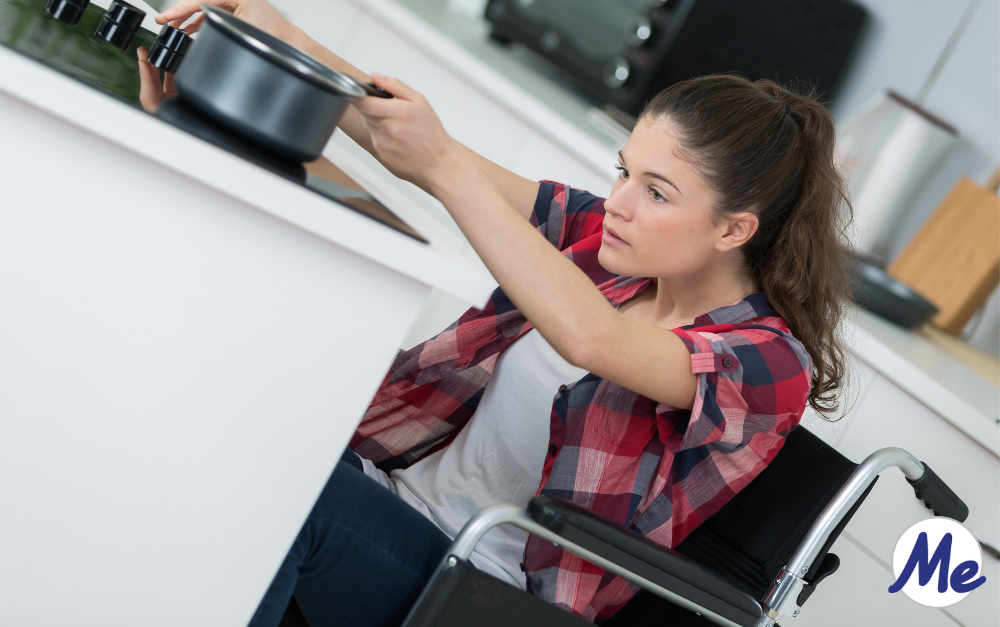 Decluttering, organizing or downsizing can be an extremely emotional and trying process especially if you are living with a family member with injuries, illnesses, or disabilities.
Your home needs to not only be a place of comfort for this individual, but it also needs to be a place of function; a place where your family member can live with convenience and accessibility.
Me In Order recognizes that working with those with disabilities, illnesses, or injuries takes humility, patience, and courtesy. We are here to help not only to structure and guide your family through this process, but also take the necessary time and support to get your home in the right order.
1. We will organize your home for function
One of the biggest issues that a person living with disabilities, illnesses, or injuries has to deal with within a household is independence. It can be challenging for a person not to be able to reach an item or do an action just because it is not at eye level.
Sometimes, all it takes is restructuring. Our team prides ourselves in organizing in a way that helps our clients live with ease. By initiating the use of lower cabinets, drawers, and tables, we can rework certain rooms to not only function for all the family members but also work for the individual with disabilities, illness, or an injury.
For example, if an individual enjoys cooking, but struggles with reaching items in the kitchen, we can see how it would affect their overall happiness in the kitchen. If this person cannot reach a plate or pot, we could use lower-level drawers, cabinets, or shelves to store items this individual needs to use for everyday life. By making sure this person can easily access their cooking utensils, they will be more likely to participate in an activity they enjoy.
We have found in our experience that a home's space is going to dictate what a person can do in that space. Implementing a clean, open floor plan will also help those with visual impairments, and those in a wheelchair. We could structure the room by moving everything against the walls to offer more space for this person to move around and interact.
At the end of the day, we can make sure that every item has a home within this room and that each item is easily accessible for this person to enjoy the activities they love.
2. We will help come up with a plan
Our main focus as expert organizers is to look at what this person enjoys doing, what is bringing them stress, and create a plan that helps accomplish their everyday living goals.
As expert organizers, we can evaluate the current living conditions and the certain struggles that our clients are experiencing day-to-day. From there, we will brainstorm the best ways to tackle the tasks at hand.
If there is something that is preventing this individual from living their best life, we will come up with a solution. For example, if someone loves to draw, but has too many items pilled on a table, we can remove the items that are unnecessary and design a custom craft space for this person to do what they love.
Or, if someone can't move around their living room because they have a large amount of clutter, we can design a plan to go through these items and help the person decide what is worth keeping (i.e artwork that brings back old memories, family photographs, achievement ribbons) vs items that are not worth keeping and instead need to be tossed or donated (i.e multiple utensils, old newspaper piles, broken equipment.)
We will also design a plan to display the items that bring them happiness. For example, we can have an individual pick out their top 5 favorite photographs, and we can easily frame and hang these photos in their newly designed room. That way, every time they see their favorite photographs, it will bring them a happy memory.
By coming up with a plan, we have the opportunity to clear out the unnecessary clutter that is bringing them unhappiness. Which, as everyone knows is a timely and daunting process…
3. We will structure time accordingly
Let's face it; decluttering takes a long time. With any home organizing project, we are aware that it's going to take time and patience. One of the mistakes people make is overwhelming or rushing those with disabilities, injuries or illnesses.
Most, (if not all) people don't want to get rid of their treasured items. As expert organizers, we know that being patient, calm and kind are going to help those going through this process. We also know it is important not to judge and to take into consideration the emotional factors involved in decluttering and organizing.
For people with disabilities, illnesses, or injuries, we can adjust to the person and their personality. By being pro-active and not overwhelming the individual with too many questions and decisions, while also keeping their thoughts in mind, we can establish the task at hand.
We can also make sorting and decluttering an activity for this individual that they can participate in the process. Not only will the person enjoy being a part of the action, but we will also tackle the daunting task at hand together. Thereby, giving them some ownership over the process.
Small changes make a big difference for those living with disabilities, illnesses or injuries. Me In Order is here to help streamline the process and make their home and lives functional and comfortable.
Me In Order is here to guide you in any way you need to start your organizing project. If you are interested in learning more about how to hire an expert organizer, check out our Ultimate Guide To Hiring An Expert Organizer , or contact us today!
Natalie
Order University Content Creator