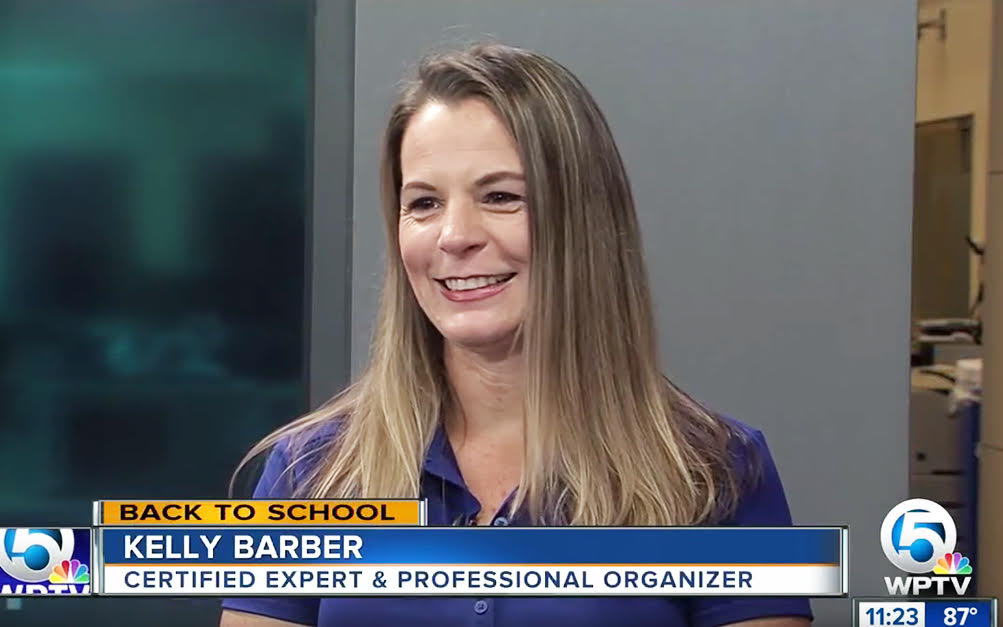 We know how crazy this first week of school must have been for you and your family! The endless amounts of back to school paperwork, books, school supplies, and scheduling is enough to have us missing the dog days of summer desperately.
Thankfully, our very own Kelly Barber helped viewers on WPTV New Channel 5 understand that even though the first week of school  is chaotic, there is a way to keep everything under control and keep you and your family organized
Check out our Me In Order tips for staying organized during the first week of school.

1. Designate a place for papers
It's important to have a centralized location for any and all back to school paperwork. Your children will come home with backpacks filled to the brim with papers that demand your attention, approval, and signature. By creating an organized filing system for your children, you will be able to sign everything in a timely and orderly fashion. Your children will be able to easily find what they need for class the next day; preventing important paperwork from becoming lost, forgotten, or (worst case) thrown away.
2. Keep a set of school supplies at home
We've all heard the saying "I left THAT at school" or "I don't have THAT at my desk at home." Our children are all over the place; and their stuff is too. It's important to have a set of school supplies at home that is separate from their school supplies in their backpacks or at school. Having these items in one central location such as a pencil box will help your children immediately start their schoolwork when they get home instead of searching around the house for what they need.
3. Create a designated "School Bin"
Our children may bring home items daily that they don't necessarily need at the moment, but would like to keep such as artwork, study guides, or paperwork. Create a "hub" for their items such as a file box or a storage bin to store their items or school mementos. At the end of the year, they will be able to go through their items and decide what they want to keep and what they want to toss. This will prevent the buildup of school work in their rooms (or better yet) the buildup of school work in your kitchen/living space.

4. Color coding
Color coding is helpful for your children to differentiate between their different school subjects and the school supplies that go along with it. For example, deciding that all math items will be blue will help your children remember what they need for each class. They will remember when they are leaving school to grab all blue folders, notebooks, and binders for their math homework that needs to be done that night.
5. Make a communication notebook
If you have multiple children, you know how confusing scheduling may be. One might have band practice, another might have soccer, etc. By making sure there is one central communication notebook that holds all calendars, practice times, and doctor's appointments for your family. This also helps communicate to both you and your spouse what is going on daily with your children.
6. Create a lunch bin and food menu
When our children get home from school, they are HUNGRY. Having a bin that your children can grab snacks from will help curb their appetite after a long day of school. Make sure to set boundaries so that your children don't eat everything in their snack bin! It will also help schedule a "What's for Dinner" menu that lives on a dry-erase board in your kitchen. That way, your family knows what to expect for dinner (and no one will bug you about what's for dinner!)
7. Create a Daily Closet Organizer
If you struggle as a parent deciding what to dress your children in every day, try a daily closet organizer. On Sunday nights, work with your children to decide what they want to wear each day for the upcoming week. Separate all the outfits into bags, or organizing bins so that they can avoid the hassle of finding an outfit every morning. This will especially help with the craziness of the first week of school.
We hope these tips are helpful for your first week of school and we are wishing you a successful (and organized!) school year!
Me In Order is here to guide you in any way you need to start your organizing project. If you are interested in learning more about virtual organizing and how to hire an expert organizer, check out our Ultimate Guide To Hiring An Expert Organizer , or contact us today!
Natalie
Order University Content Creator