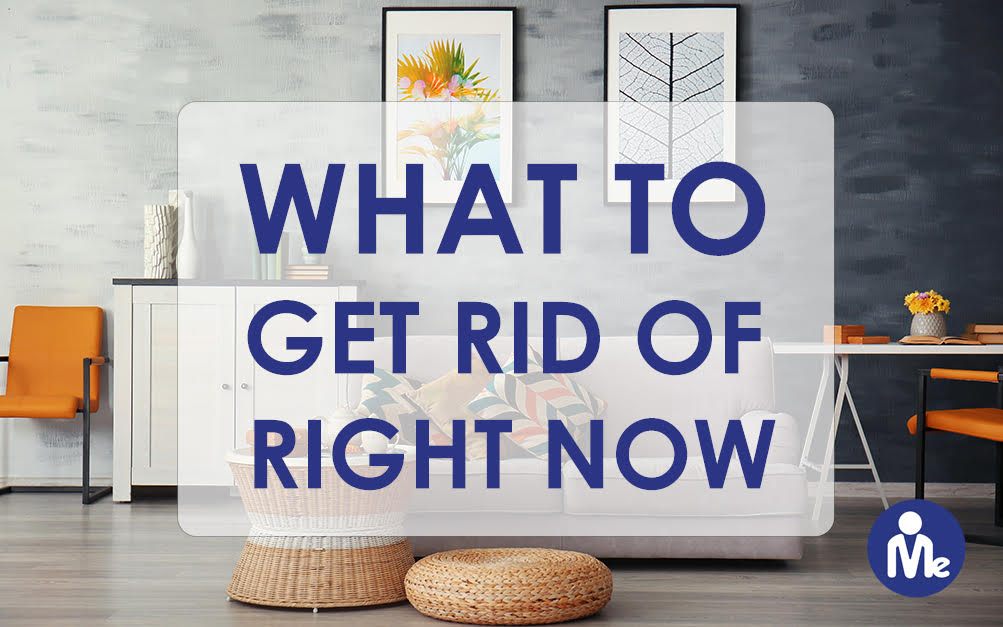 Need to organize your living room?
Your living room is bound to be the sole source of entertainment while delighting guests this holiday season. It is apparent that the most adored (and most used) room in your house deserves some extra love at this time of the year. 
So, how do we make a living room appear as if no one has actually been living in it?
This month we are focusing our "What To Get Rid Of Now" series on your living room. Here are some items you can get rid of now in an effort to organize your living room and prepare for the arrival of guests, family and friends during the holidays:
1.) Old newspapers, books and magazines
Every living room has a pile of newspapers, books or magazines that have accumulated overtime. This assortment of paper goods somehow always ends up in the living room. It makes sense; since this is the room where we spend the most time relaxing and catching up on our reading. 
If your pile contains items from earlier this year, odds are you will not read it. For example, if you were delivered a newspaper back in February, you probably will not spend time reading old news. The same goes for books. If you purchased a book two years ago and you still haven't read it, then maybe it is time to pass it onto someone who will. 
You should always keep items that bring you joy and excitement, so if you have a favorite set of books, maybe try restructuring your pile into a neat and orderly bookshelf. That way, you can display your favorite novels, and even feel inspired to read them on your off time during the holiday break.
2.) Ratty Pillows and Blankets
We all love to cozy up in front of the fire place with a pillow, blanket and hot chocolate. However, sometimes we find it difficult to part ways with our favorite, snuggly blanket or comfy-cozy pillow. However, if this item happens to be ratty, torn, and dirty, then it may be time to retire it. You don't want your guests to snuggle up with a dirty accessory; so take the time to go through your inventory of pillows and blankets and toss out the ones that are no longer able to keep you warm and fuzzy. 
This is also a good time to go through your household pillows and blankets and donate to those less fortunate during the holidays. Some people are without warm items this holiday season, and could use your help. If you have pillows and blankets that you no longer use or want, try donating them to the Salvation Army or GoodWill. 
3) Chewed Up Dog Toys
I know we all love to spoil our pets, and sometimes it is difficult to put a cap on the amount of toys that accumulate over the house. However, the last thing you want is for your guests to trip over the dog's chew toy while enjoying themselves in the living room. Toss out any old, slobbery dog toys. Trust us…your dog will be just fine! PLUS, it's more incentive to treat them to a brand new toy in their Christmas stocking!
It may also be helpful to keep your dog toys in a basket or in their own section of the house such as the laundry room or spare bedroom. Take the time to go through their piles of stuffed animals, chew toys, and squeakers and eliminate the toys that are damaged and gnawed up beyond return. 
4) Unused Electronics
 We all have that one stack of wires, remote controls, and electronic devices that we are terrified of going through. What if I toss out the wrong remove? What if that cord was meant to be for that special TV outlet? We understand the fear; but we also know you can't live with an unmanaged pile of chargers and cords. 
Block off an afternoon to test out the electronics you have, whether they be old remotes, wires, or even game boys and determine if they are all worth keeping. If you haven't used them in the past year, odds are you don't need them. Wrap them up, and either donate these items or toss them out. You may even be able to find a local computer store that will gladly take your unused items.
We hope our tips help you tackle your living room and we hope you feel more settled this holiday season. We know how stressful it may be to host and entertain large groups, but we know with the help of Me In Order, you can take on anything (even crazy in-laws and overbearing neighbors!)
As always, Me In Order is here to aide you in any way you need to start your organizing project. If you are interested in learning more about how to hire an expert organizer, check out our Ultimate Guide To Hiring An Expert Organizer , or contact us today!
Happy Holidays from the team at Me In Order!
Natalie
Marketing & Content Creator