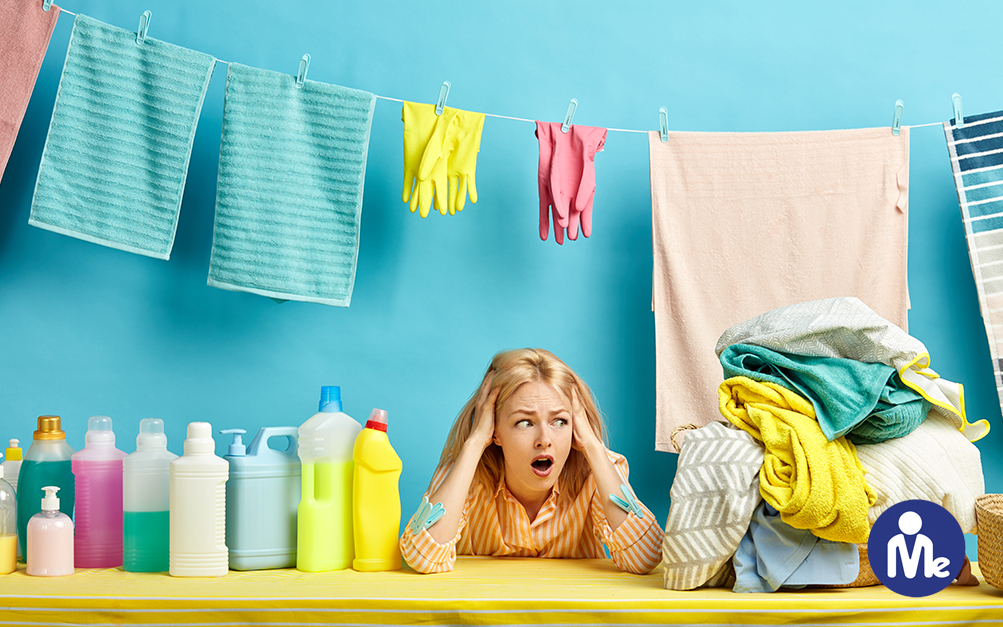 What are your most hated places to organize? Is it the bathroom? The garage? Whatever it may be, we are here to help you organize your least favorite spots.
Upon the passing of Hurricane Dorian, we are all struggling for distraction from the impending news reports, constant posts on Facebook, and repetitive conversations about the path of the storm. 
Being a team member at Me In Order means I have a passion for order; and it also means I can't sit still. I have a love for constant movement, hard work and of course, home organizing. So, I'm channeling my "post-hurricane-anxiety" by tackling closets, cabinets and drawers.
Knee-deep into my organizing binge this weekend, I started thinking about how many people won't be using their free time to organize this week… or ever. 
Let's face it…some people just don't like to organize.
You may dread everything about cleaning out your closet; or maybe you detest going through your kitchen junk drawer. Whatever the case is, organizing isn't the first on your to-do list. 
Obviously, the team at Me In Order can't relate; it's clear we love to organize every nook cranny and corner within arms reach! However, we understand how much our love and passion can also be another person's dislike and indifference. 
I took the time to ask a few people about their most hated places to organize; also known as the places they try to avoid like the plague. And this is what they had to say…
1) The Garage
I call this one "Big Mama". Tackling your garage not only takes time, but takes man power, energy, and lots of breaks in this impenetrable heat. There is so much to do in this giant space that you can easily become overwhelmed and burnt out. Also, on a sunny day, who wants to spend their time in a hot garage when you can lay by the pool? One of the most hated places to organize includes the garage, according to LouAnn Of Mount Laurel, New Jersey.
"It's an overwhelming psychological thing; it's outside, it's dirty, and frankly, it's just something I don't want to tackle by myself. Plus the spiders…always the spiders."  – LouAnn of Mount Laurel, New Jersey 
2) My Classroom Closet
My personal opinion: our work desks, cabinets, and closets at our jobs get the least amount of attention when it comes to living a clutter-free life. How many times have you shoved paperwork into every crevice available, and tossed old binders, notepads and pens into drawers never to find later? Another one of our most hated places to organize is the classroom closet according to this Florida teacher:
"I'm a teacher, so I'm constantly surrounded by children. So, first off, WHEN am I going to find time to clean my classroom closet? I stuff everything in there, and try not to cry when I can't find something. It's honestly easier just to pretend it doesn't exist." – Emilee of Jupiter, Florida 
3) My Husband's Closet 
If you find it difficult to tackle your own closet, it may be unbearable to organize your significant other's. You might know your soulmate like the back of your hand, but you may not know what systems work for that other person. It takes asking questions, working together and strategizing to accomplish an organized closet that actually works for the other person. Lee's most hated places to organize includes her husbands closet:
"I tried organizing my husbands closet, and upon seeing the amount of shirts, socks and underwear, I gave up. Plus one of his shoe racks fell. If he wants it organized, he may need to try doing it himself." – Lee of Lutz, Florida 
4) The Fridge & Kitchen Pantry 
The storm may actually be the perfect time to tackle organizing the fridge and kitchen pantry, since you're bound to stock up on additional food and perishable items, however we are aware there are some people who detest organizing their fridge or kitchen pantry. Sometimes we buy, buy, buy without evaluating exactly what we need and creating a system of using those food items. 
"I know keeping old food in the fridge is gross, but sometimes I just don't have time to go through all the condiments and empty containers and really come up with a system for having a clean fridge. Plus sometimes I forget about the items in the pantry so things just add up." – Amber of North Palm Beach, Florida 
So we ask you…what are your least favorite places to organize? AND how can we our team at Me In Order help you get these places organized? Let us know today and we will be happy to arrange a time to go through your questions and make a plan of attack!
Me In Order is here to help! Hiring an Expert Organizer can help you get your home in order. If you are interested in learning more about how to hire an expert organizer, check out our Ultimate Guide To Hiring An Expert Organizer , or contact us today!
Natalie
Marketing & Content Creator