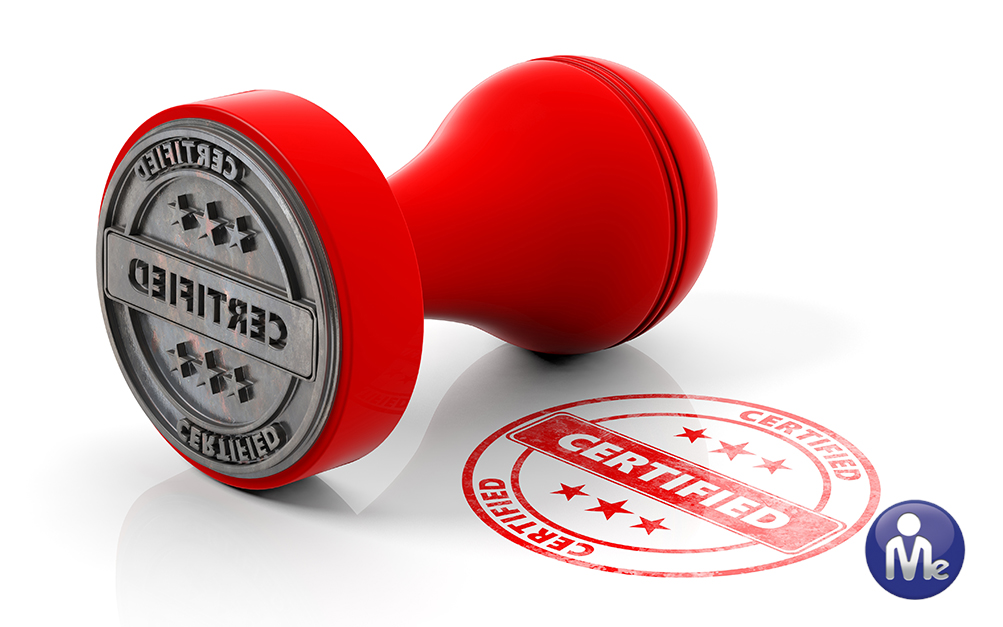 You're going to need certifications to become an organizer if you are looking to make a break in the organizing industry. Thankfully, Me In Order has everything you need to get your organizing career up and going…
This past week, I ventured out of my comfort zone of Chinese food and Netflix documentaries and attended a local networking event.
Surrounded by a room full of random people, I was expected to stand up, introduce myself and offer a 60-second elevator pitch on what it is I "do".
Now, I do many things; I write, I cook, I dance, I organize, I specialize in marketing consulting.  And trust me when I say…it is extremely difficult to sum up your passion into a pitch in front of 50+ people and all under a ticking wall clock.
When I stated that I was a marketer and that I worked for a Certified Expert Organizing company, a woman motioned to me in a way that, (everyone who is a seasoned networker knows) means "hang back after this silly thing so I can talk to you privately."
As beckoned, I waited for the woman after the event, and (thinking she would be needing our services) was taken aback by her question:
"I know what a professional organizer is…but what does it mean to be a 'certified expert organizer'? Are there certifications to become an organizer?"
This question got me thinking; how many of our readers actually know that in partnership with Order University™ we offer an entire educational course to give those interested in organizing a chance to learn the skills and the craft of organizing?  How many are aware that as a Certified Expert Organizer®, you receive badges, reviews, your own website page and everything needed to assist your brand and your business?
This sparked my idea for my article this month; educating the public on the other side of Me In Order…the certification side.
Me In Order does more than just offer home organizing and moving services. We have our platform and business established to help the community live a clutter-free lifestyle, and we also offer the opportunity for those in South Florida, Atlanta, GA and beyond to become organizers themselves. Want to learn the certifications to become an organizer? Here's what you need to know…
How Is An Expert Organizer Certified?
Before they even begin working in the field, Me In Order has a strategic program for our potential organizers. We hand select, educate, mentor and certify our Expert Organizers before they work with our valued clients on their own.  During their certification they are required to pass and complete the Order University™ classroom curriculum, exams, field experience, mentor-ship and sponsorship by other Certified Experts. From there, our teammates are awarded the Certified Expert Organizer® certification and are able to assist Me In Order clients as a Team Captain. The list of what you get with Certified Expert Organizers is rather extensive. See the chart below for a list of all that you receive when hiring a CEO®.
What Is Order University™?
At Me In Order, we have a passion for people and a passion for education.  We are proud to partner with Order University™ for our Expert Organizers classroom curriculum, certifications and continuing education for certification renewals.
Order University™ is our certification program that is dedicated to educating both the public community and the Me In Order Expert Organizing community. It offers educational content to the public community through YouTube, social media channels and articles published on the Me In Order website (like this one!) It also offers classroom style education to the Me In Order team of Expert Organizers and handles the administration of their certification process. This includes exams, video modules, and worksheets. Much like a real life university class, you have to do the work to earn the credit!
What is the difference between a Certified Expert Organizer and a Professional Organizer?
The difference between a Professional Organizer and an Expert Organizer is that a Professional is someone who gets paid for a service, while an Expert is someone who has distinguished themselves in their field through education and experience.
What are other certifications are out there in the organizing world?
There is a certification from the Board of Certified Professional Organizers (BCPO) that you may consider gaining after you have been in the industry for a while. Think of it as an additional feather in your cap. However, to become a Certified Professional Organizer, you'll need at least 1500 hours of paid experience over the past three years (experience that you can get as a Certified Expert Organizer at Me In Order!) Check the chart below for a side by side comparison between the Certified Expert Organizer® designation and the Certified Professional Organizer® designation.
If you are interested in learning more about how to hire an expert organizer, check out our Ultimate Guide To Hiring An Expert Organizer , or contact us today!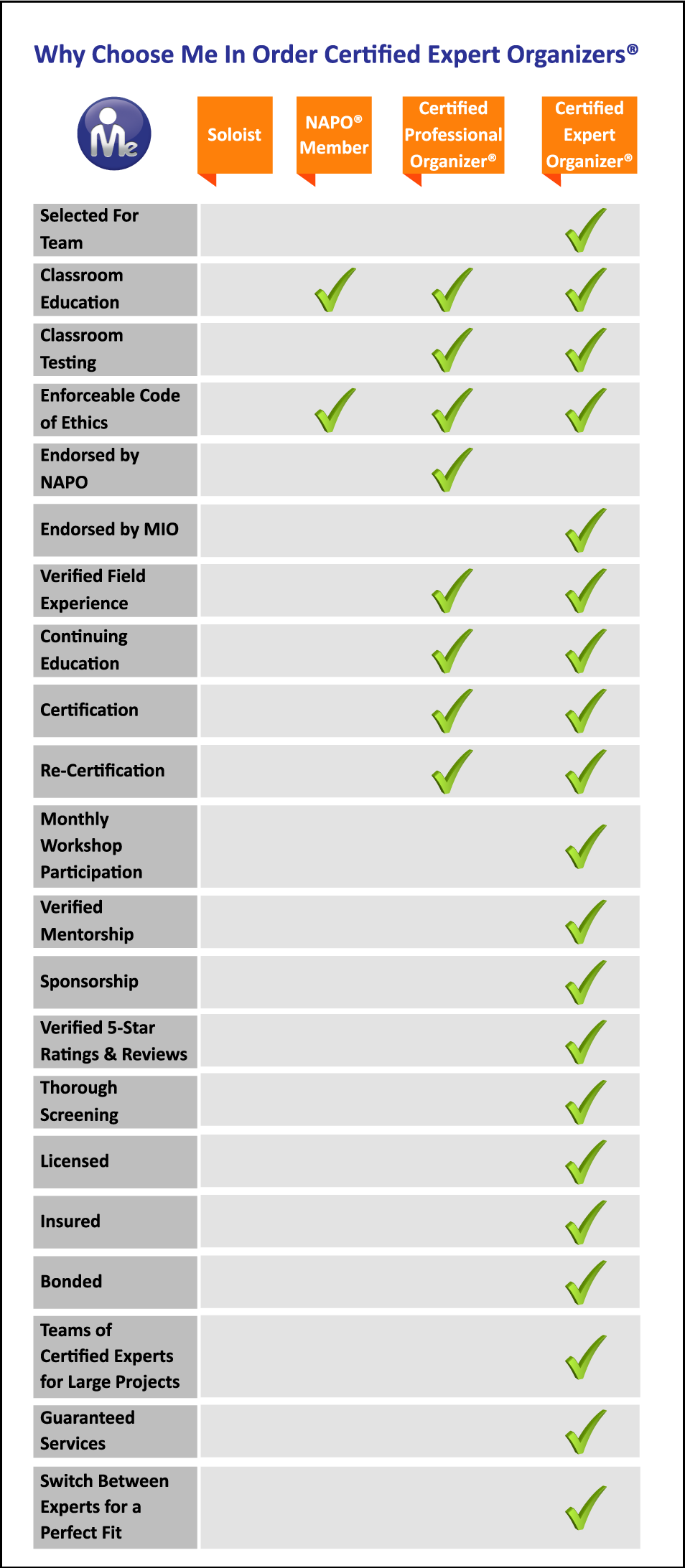 Me In Order also offers badges that you can earn on an annual basis and add to your list of credentials. Here is a full list of the badges you can earn through Me In Order:
Certified Expert Organizer
Team Captain
Order U Contributor
Certified Expert Organizer Coach
Quest
Order U Instructor
Continuing Education
Workshop Leader
Community Volunteer
If you are interested in becoming a Certified Expert Organizer, we would love to hear from you! Call us today for more information.
Natalie
Order University Content Creator