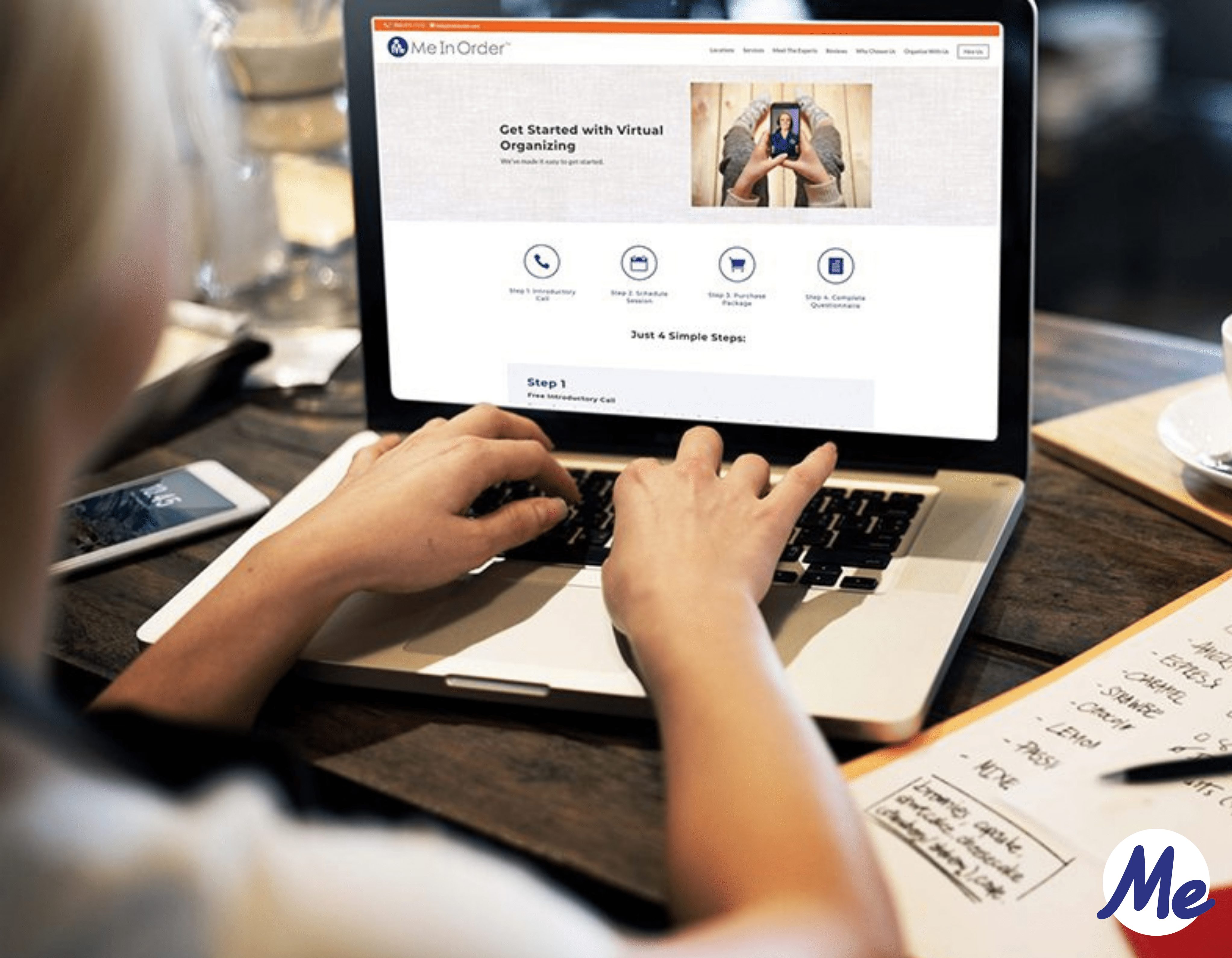 Think about your progress over the last few weeks.
How many Netflix series have you watched?
How many quarantine snacks have you devoured?
How many puzzles have you strategically put together?
As we trudge on, day by day we know you are grasping at straws for things to do. 
Read More: 5 Things To Do While Quarantined 
Now is the time to tackle those projects that have been sitting on the back burner for months. Whether it be cleaning out your fridge, organizing that overflowing closet, or finally restructuring your jam-packed garage, now is the time to take the bull by the horns and get to work!
Think about it; we will never have another opportunity to be home for this long, so if you're looking for help or motivation, the team and Me In Order is here. 
Me In Order is proud to announce our newest initiative to help you during COVID-19. Introducing, Virtual Organizing By Me In Order!
Virtual organizing is the most efficient way to tackle your organizing projects while remaining safe and secure at home. Curious as to what virtual organizing entails? Read on for details on our virtual organizing initiative!
Virtual Organizing Is…
…a great way to ensure your organizing projects success! Imagine your professional organizer walking you through your project needs step-by-step, while not having to have them physically present with you in your home. This is all possible through Virtual Organizing!
Virtual Organizing is just like hands-on organizing except that your favorite Expert Organizer is there with you via telephone or live video. You can use photographs, emails, texts…any kind of technology you can think of! Me In Order Experts are ready to work with you online using the technology that you are most comfortable with.
The benefits of Virtual Organizing includes…
…providing critical support to getting the help you need! Virtual Organizing also offers a safer environment by not having others in your home during this time. It is more affordable than hands-on organizing, and sessions are shorter so there are less scheduling conflicts with your professional organizer. 
To get started with Virtual Organizing…
…all you need is technology! Grab your cell phone, computer, tablet and make sure you have Internet access. Think about the project you would like to tackle, and complete the questionnaire. You will also need the physical ability for hands-on organizing (this could be in the form of a family member within your home too.) Most importantly, you will need the motivation, commitment, and energy to tackle your project (don't worry, your professional organizer is here to encourage you along the way!)
To begin your Virtual Organizing project…
…all you have to do is visit the Get Started page to begin! Are you excited? We are too! Me In Order is proud to offer solutions during this uncertain time, and we are here to continue to help you live a clutter free life even during this time. Whether it be through Virtual Organizing, or through our regular in-home organizing sessions, the Experts at Me In Order are able to help service your organizing needs both safely and efficiently.
It's important for you and your family to stay healthy and safe during this season! We hope that these tips will help you tackle this season's sicknesses. 
Me In Order is here to guide you in any way you need to start your organizing project. If you are interested in learning more about virtual organizing and how to hire an expert organizer, check out our Ultimate Guide To Hiring An Expert Organizer , or contact us today!